Meet Mark and Justine, Wilkins Chimney Sweep franchisees
Mark Sullivan (49) and his wife Justine (39) own and run Wilkins Chimney Sweep West Suffolk. Mark was a Police Officer before retiring as an Inspector after 30 years service. They have two young children and live in Hundon, Suffolk.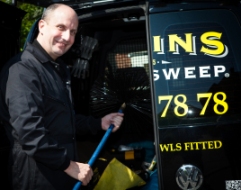 What made you buy a franchise business?
We wanted the challenge of running our own business but felt that starting from scratch after 30 years of me being a Policeman with no regular business skills, was possibly too great a challenge for us. Franchising offered us a distinctive brand, a proven business model and support by a Franchisor. Choosing a franchise seemed absolutely the right thing for us to do as a couple.
What made you buy a Wilkins Chimney Sweep franchise?
We'd decided a 'man-with-a-van' franchise was right for us because of the emphasis on freedom and independence and when we met owners Peter and Louise Harris, we found them to be very honest and helpful. Although we looked at quite a few other franchise operations eventually we chose Wilkins because we liked the brand, Mark enjoys DIY and we felt that there was a market for chimney sweeping services in our local area; there was also great chemistry between franchisor and franchisee.
What did you do before you bought your franchise?
Mark was a Policeman for 30 years; Justine had numerous jobs ranging from Police officer, check in agent for Air France, swimming teacher, eyelash technician, repairs/rents/housing advisor at a Housing Association.
Were you made redundant from your last post?
Mark retired from the Police Force but Justine took voluntary redundancy from her job.
Have you done your training with Wilkins Chimney Sweep? If so how did you find it and what did you learn?
Mark says; Yes we have. The training was excellent. Louise and Peter suggested we schedule the training to avoid me being away from home for too long, since we have a young family. Firstly I had a week of practical training on the road with Peter; then Louise came up to Suffolk and Justine and I had a week of really comprehensive training on the business model and administration. Finally I had a further week of 'hands-on' practical training in real-life situations,out on the road with Peter. I learnt so much. I had no idea sweeping a chimney would be so physically demanding or at times, complex. From the outside all chimneys look the same....wrong! Each chimney presents a different set of issues so I was thinking on my feet all the time.
What skills do you think you need to be a chimney sweep?
You definitely need to be physically fit, have an ability to think laterally and be able to solve problems (see odd shaped chimneys above!). You need good interpersonal (communication) skills, a positive attitude and good attention to detail.
What skills do you think you need to run a franchised business?
I would say you need to adopt a very positive attitude and an energetic and resilient approach. It could be easy to be put off early on as getting customers is a slow but steady process, but keep following the manual and it will come. You also need to be able to follow procedures, not a problem for an ex-policeman!
What are your plans for the business in the next 12 months?
Our goal is to generate sufficient on-going, sustainable business to earn back our initial investment and build up our customer base. We aim to generate local recognition of Wilkins Chimney Sweep as a trustworthy and reliable brand. With my Forces background I find I'm being recruited to join a number of neighbourhood watch schemes because I'm always out and about in the local community and have the skills and opportunity to be able to identify suspicious activity. This has been a real plus and is helping me to meet plenty of new customers locally.
What are you enjoying about running your own business?
There is a great sense of pride and satisfaction in making our business work. We're both enjoying working hard at something that in return provides the flexibility of working locally and from home, giving us a much better home life. Now I actually get to take the kids to school and attend school plays etc which was nigh on impossible in the past. I'm really looking forward to the first Nativity Play this Christmas!
What support have you received from your franchisor?
The support we have received from Franchisors Peter and Louise Harris has been great; aside from the initial training, they have provided extensive on-going support via phone, email etc. If we have any concerns they are always dealt with immediately. We're very happy with the support we have received.
And finally....
Early indications are that there is a gap in the market locally for a professional chimney sweeping business and at this stage we are confident of getting lots of business. Watch this space!
To find out more information on Wilkins Chimney Sweep Franchise just click below
What

Our Franchisees Say

I liked the idea of working for myself doing something more hands on than I had been used to as an ex-surveyor. Franchising gave me professional backup, training and an established name to use.

WILKINS CHIMNEY SWEEP have been very supportive in providing both practical training, and also advice on how to run a business with accounting and tax information.
Why

Choose Us

Build a sustainable, ethical, saleable and scalable business

We are the only bfa accredited chimney sweeping franchise

Annual repeat business with excellent cash flow!
Related

Franchise Categories
Related

Franchise Types