Mark Frost surveyed several franchise opportunities before choosing Wilkins Chimey Sweep Franchise
Mark Frost (52) purchased his Wilkins Chimney Sweep – Brighton and Worthing franchise after meeting owners Peter and Louise Harris at a franchise exhibition at ExCel in London in February 2011, having recently been made redundant from his job as a surveyor.
Mark is married to Sue and they have two sons, Nicholas and Simon.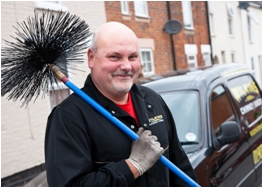 What made you decide to buy a franchise business?
'Purchasing a franchise gave me professional backup, training and an established name behind me and I was attracted to the idea of working for myself and doing something more 'hands-on' than I had in my previous role as a commercial property manager.'
What made you buy a Wilkins Chimney Sweep franchise?
'I looked at various business opportunities before settling on purchasing a franchise from Wilkins Chimney Sweep. I'm convinced we are going to see a steep increase in demand for sweeping services across the country, as energy prices rise and more people turn to solid fuel to heat their homes and businesses. Fortunately, chimney sweeping is a 'repeat' business, which, as long as I do my job properly, should mean yearly visits to all my customers, something that was important to me when I was considering different business ventures.'
'Also, in March 2011 the Government announced the Renewable Heat Incentive, an £860m grant to encourage homes and businesses to burn wood as a heating source to reduce carbon monoxide outputs. Currently around half of the UK's carbon emissions come from the energy used to produce heat – more than from generating electricity.
The RHI will reduce emissions by 44 million tonnes of carbon to 2020, equivalent to the annual carbon emitted by 20 typical new gas power stations and, of course, mean a large new market for chimney sweeping services.' 'Finally, chimney sweeping is an ancient and well respected trade with a long and interesting history, going back hundreds of years, and am now proud to call myself a chimney sweep.'
How was your training with Wilkins Chimney Sweep? What did you learn?
'The training I received was first rate. Peter and Louise were tremendous, spending extra time with me on areas I was unsure of, making sure we didn't move on until I was fully confident I had mastered each new skill. As well as learning the practical side of sweeping, I have also learnt about tax, accounting, customer relations and PR, all of which will be invaluable in running my new business.'
What skills do you think you need to be a good chimney sweep?
'Apart from not minding getting your hands dirty I think you need a genuine 'hands on' attitude. Chimney sweeping would suit someone who is good at solving practical problems and isn't afraid of hard work. As we work with members of the public in their own homes, it helps to genuinely like being around people, to be comfortable chatting to them and building a rapport.'
What are you looking forward to about running your own business?
'I'm really looking forward to getting out on the road in my smart new van; meeting members of the public; building relationships with customers and, eventually, banking the proceeds of my hard work.'
What are your plans for the business in the next 12 months?
'I'm going to play close attention to the growth plan as laid out in the manual Peter and Louise have given me. I'll be using a combination of advertising, PR and one-on-one customer relationship building to grow my new business. I see this very much as the beginning of a progressive journey; eventually I hope to have my own fleet of Wilkins Chimney Sweep vans, servicing the South East of the country.'
What support have you received from the franchisor?
'Peter and Louise have been very supportive in providing both practical training, and also advice on how to run a business with accounting and tax information.'
Any other comments?
'I don't think I could have found franchisors who are as dedicated to making this work as Peter and Louise. It is a new venture for them as well as for me, and I have been very impressed with the way the whole process has been handled. I would not hesitate to recommend them to anyone.'
To find out more information about Wilkins Chimney Sweep franchise just click below
What

Our Franchisees Say

I liked the idea of working for myself doing something more hands on than I had been used to as an ex-surveyor. Franchising gave me professional backup, training and an established name to use.

WILKINS CHIMNEY SWEEP have been very supportive in providing both practical training, and also advice on how to run a business with accounting and tax information.
Why

Choose Us

Build a sustainable, ethical, saleable and scalable business

Annual repeat business with excellent cash flow!

We are the only bfa accredited chimney sweeping franchise
Related

Franchise Categories
Related

Franchise Types