The Award Winning foot care franchise that will give you a better quality of life, with no experience necessary.
The Healthy Feet Franchise is a sucessful and established Foot Care Business that focuses on the well-being of others and creates an incredibly rewarding and fulfilling career for those who want to reinvent themselves and make a difference.


The Healthy Feet Franchise Opportunity:

The Healthy Feet Mobile Clinic Franchise offers you the opportunity to run your own successful mobile foot care business whilst helping those in your community. The demand for routine foot care is on the rise you will be given full training to gain a qualification that will give you the skill and knowledge to start your own business in this growing and thriving sector.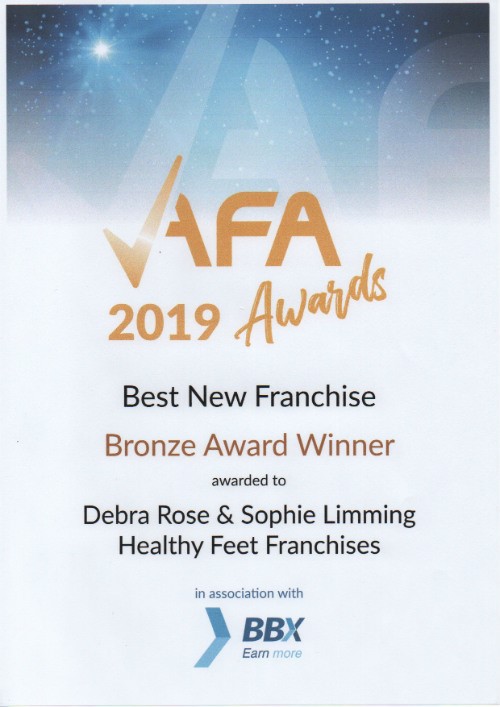 Healthy Feet are an Award Winning Franchise based upon leadership, support, innovation and growth. They will fully train you to become a qualified and registered Foot Health Practitioner, carrying out routine foot care to patients in the comfort of their own home. This provides a vital service within your community.
Routine foot care comprises of trimming toenails, removing corns and callus (hard skin), treating ingrown toenails, diabetic foot care and giving advice on bacterial and fungal infections.
The majority clients are elderly and therefore they are unable to
bend down to reach their feet in order to maintain them, this is where our service becomes invaluable.
The majority of your training will be completed online, enabling you to complete the course around your current job.
This franchise allows you to fulfil a demand and create a business that is not only very successful, but also provides an essential service to your community.
What is a Foot Health Practitioner?

A Foot Health Practitioner (FHP) is qualified to carry out routine foot care treatments and maintenance to feet.
When trained, you will have the knowledge and skill set to treat clients in your locality, often making regular visits to maintain good foot health and comfort.
With all the latest equipment provided, you will be able to use a range of medical tools and podiatry products to treat everyday common conditions. You will be carrying out general foot care, which includes trimming and filing toenails, removal of hard skin and corns, diabetic foot care and treating infections.
On occasion you will be asked to remove ingrown toenails. If you are ever become concerned about treating a patient, you will refer them to a GP.
The appointments are approximately 45 minutes long and you will wear gloves and a mask at every appointment.
Choose Your Own Hours And Days Of Work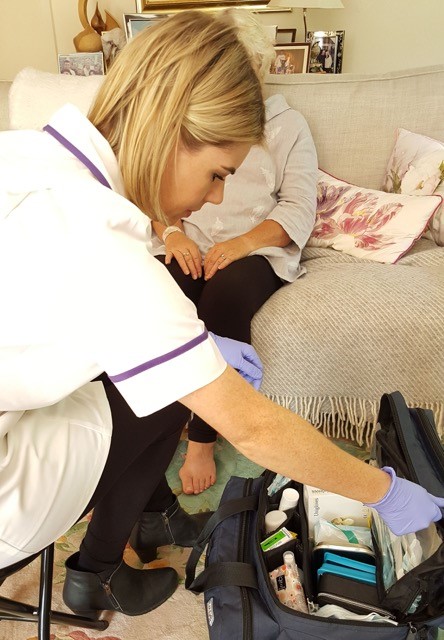 Running your own mobile clinic is sociable, stress-free and rewarding, making it a desirable career for those seeking new beginnings.
You can choose your own hours and days of work. Healthy Feet do not set any targets, therefore if you would like to have more time for yourself, then you have the reassurance that you are able to do so.
Healthy Feet are offering opportunities nationwide as the demand for foot health is increasing in all areas of the country. In the UK we have an ageing population and only 5% of the foot care is being performed by the NHS. Visiting individuals in their home to give basic foot care treatments enables you and your business to provide a much valued service to your community.
Reasons To Become A Healthy Feet Franchisee:
Sociable and rewarding career that provides an essential service to your community.
No experience necessary, all training will be provided including gaining a recognised qualification.
You are able to train whilst maintaining your current job
Choose you own hours and days of work
Good rate of pay
No stress, pressure or targets
Support and guidance from experienced Foot Health Practitioners every step of the way
Become part of a friendly team of franchisees, sharing advice and knowledge.
Regular and repeat client base
Recession Proof

Comprehensive Training Package:
Online training programme to complete theory modules, this can be achieved whilst maintaining your current job
Clinical training – a two week training course upon completion of theory modules
Guidance and support every step of the way
Ongoing Continuous Professional Development to enhance your skills and further your learning
Business and development training
Marketing and Social Media training
Tailored business launch
Annual Conference
The Ideal Healthy Feet Franchisee:

Healthy Feet want to find the very best people to represent their franchise in order to create a unique brand that stands for foot care excellence.
You will be working with a variety of people of all ages, therefore being able to engage in conversation and have a genuine desire to help others is important.

They are looking for those who are driven and willing to make their business as successful as it should be. All candidates must own a full UK Driving Licence and have no criminal record.

Find out more about the Healthy Feet Franchise and running your own mobile Foot Care Business. Click below now!
What

Our Franchisees Say

If you have a family, want a better work-life balance with a good salary, then this is the career for you. It's so exciting to see your business grow, see happy customers return time and again and still be in time to pick the kids up from school!

I have been able to earn a full time wage on part time hours.

Going into a franchise was not a decision that I took lightly, but after just 1 month in business I can honestly say it has been one of the best decisions I have ever made. Leaving a well-paid, secure job of 15 years was pretty daunting thought, but the job did not fit well around my young family, plus it was quite stressful.
Why

Choose Us

Manage your own hours

Income 40-45K

Increased demand for this service
Related

Franchise Categories
Related

Franchise Types