Newest Member of Papa John's Family Set to Become Big Cheese in Cheshire
Leading pizza franchise, Papa John's, has announced its latest store opening in Ellesmere Port. New franchisee Dave Foster is set to become a 'big cheese' in Cheshire as he follows in the footsteps of his brother Sam, who runs the successful franchised Papa John's outlet in Dundee.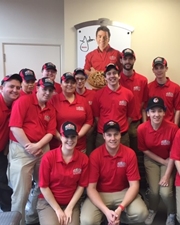 Dave Foster explains:
"Pizza is in our family. My father worked as a franchisee for a rival firm for many years, while myself and my brother Sam also worked in the industry before cooking up plans to run our own franchised pizza stores.
I originally started out as a delivery driver for the same company as my Dad. I worked my way up to shift manager and then area manager. After 12 years it was time to stop making pizza and start making money!
I had seen how well my brother was doing with Papa John's, how the company was expanding and that there was an incentive scheme to help new franchisees starting out. Deals on equipment and reduced royalty fees took a healthy slice off the final investment needed to set up, giving me just the boost I needed.
Even with my background, training has been thorough. I spent time at Papa John's HQ in Milton Keynes and then worked in my brother's store for three weeks too. I have been impressed how much attention is given to making the pizzas to create a superior product that tastes better than the competition.
In Ellesmere Port my wife Rachael, who was also a training manager for the pizza firm we used to work for, will now help me run the business. When it comes to recruiting and training staff, it will be great to be working with someone I trust and who is so experienced in this area. Our plan is to add one or two more franchised stores next year as we believe Papa John's has all the right ingredients for success."
Papa John's is one of the largest pizza companies in the world and has opportunities for franchisees throughout the UK. Papa John's which was recently named as UK National Pizza Delivery Chain for the sixth time, is currently running an incentive scheme to help franchisees in the early stages of growing their businesses which includes discounted royalty fees, contribution towards marketing spend plus free equipment for new stores.

Help is provided with location selection and full turn-key opening of stores. As a franchise, the Company supplies all the assistance needed to get your successful Papa John's up and running.
Find out more about Papa John's franchise for yourself by clicking below