Strollercise franchise owners come from all walks of life like married couple Sarah & Sarah Prince-Nicholls who both worked in an office environment in administration roles prior to taking the leap into franchise ownership.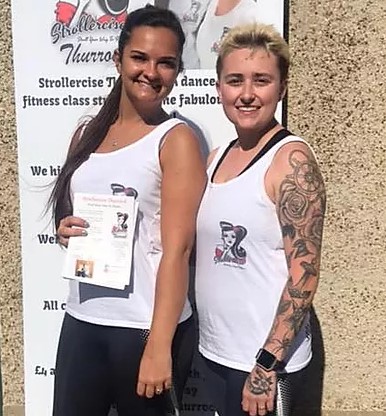 They attended their first Strollercise class with Wendy, one of their Mums and sister, Marie, and fell in love straight away! "The music, the people, the dancing, we absolutely loved everything about Strollercise, and ended up going every week!"
Like many people they didn't so much 'discover' franchising it was more a case of being in the right place, at the right time when founder, Sam Williams, announced she would be expanding the business via franchising in March of 2018.
When the two Sarah's started their Strollercise classes they were both still working full-time in their office jobs, something they have since been able to leave, due to the outstanding success of their franchise business, and they couldn't be happier.
"Sarah and I have been given the most amazing opportunity to own & run our own Strollercise in Thurrock and share the lovely classes with everyone else! It has already been the most amazing experience and we feel so lucky to be able to do what we love and we have learnt from the best, Samantha Williams! The training and support we have received has helped get us to where we are today"
One and a half years on and the Sarah's are very proud of what they have achieved: "We have worked very hard and looked into all the information available to us in order to ensure we do not meet any unexpected challenges along the way; so far we haven't met any we could not overcome."
The biggest 'high' they have had so far is reaching the total of over 200 strollers a week, with over 1000 followers on social media and customers attending 3 times a week for as long as a year; PLUS holding very successful parties for their strollers in Thurrock. The ladies add that they plan to: "continue succeeding and excelling in everything we do with Strollercise!"
What advice would they give to someone thinking joining Strollercise?
"As with starting any new business, don't rush, does your research, put in the effort and work hard for yourself, follow the franchise model and you will succeed. We have made so many new friends since starting Strollercise and love every second and will continue to do so!
Thank you to Sam and Steve for bringing Strollercise to our lives."
If this story has interested you, find out more about the Strollercise franchise opportunity by clicking below