"Becoming a Betterclean Services franchise owner will change my life for the better"
When Simona Krivickaite realised a Betterclean Services franchise would provide her with an opportunity where she could stop working long hours in the hospitality industry and have more of a work-life balance, she couldn't turn the opportunity down.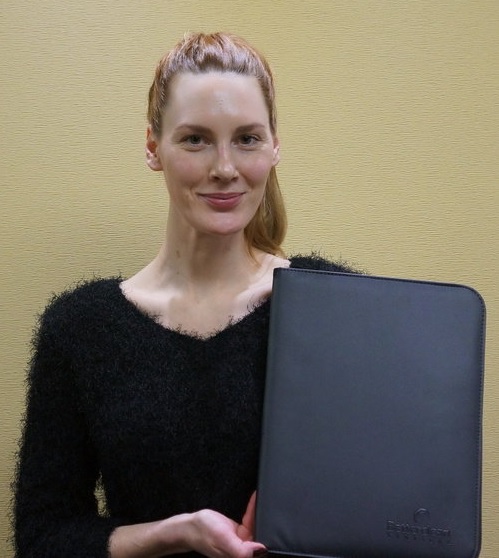 "I wouldn't say I've ever really had one line of profession. I studied the Lithuanian language at university in Lithuania and after graduating I had so many different jobs! I lived in Denmark for three years and then ended up in London, fell in love with it and have stayed in England ever since. For the past couple of years, I've been working in hotels, but I was starting to grow tired of working such long hours and getting so little job satisfaction."
In 2017, Simona was offered an opportunity to assist with the opening of The Mandrake Hotel in London as Executive Housekeeper. Simona jumped at the chance with it developing into an extremely unique role within the industry. The role gave Simona so much more freedom than her previous jobs in the hospitality sector - she felt really valued and part of a team. The flexibility the job gave Simona motivated her to consider even more for herself and she began researching where she might go from here.
Simona didn't have a background in franchising, but decided she wanted to become a business owner and thought the franchise route would suit her. She also recognised the need for a quality commercial cleaning company because of her experience in hospitality. After some investigation, Simona found Betterclean and knew it was the franchise option for her as soon as she read the website and realised the company had an ethos that really aligned with her own values.
"It just sounded like the perfect fit. I felt like we had exactly the same values regarding using eco-friendly cleaning products and wanting to reduce plastic use in the industry. This is something that's really important to me, so I decided to reach out.
"I'd say that I'm someone who is quite driven to succeed. I wanted to take on something that would challenge me and would give me the freedom of running my own business, but I knew I would need support too. I'm quite often made aware of the fact that English isn't my first language, but the support from Betterclean has really helped me confidence-wise and I know that support is always going to be there."
All new franchise owners undertake thorough and wide-ranging training that ensures they are well equipped with essential knowledge, facts and comprehension to maximise the opportunities for their businesses. The all-inclusive programme focuses on understanding the market, selling Betterclean services and covers all sales and marketing and administrative systems.
"The franchise training has been nothing short of brilliant. Mike, Betterclean's Head of Franchising, delivered the programme and he is so knowledgeable - it gave me trust in the business from the get-go. The training was so professional which reassured me I'd made the right choice. In particular, the operations manual was so helpful and easy to follow which gave me confidence going forwards.
"However, some parts of the training were more challenging than others, taking me out of my comfort zone. But it's often the things that make me most uncomfortable which I can learn the most from. At the end of the initial training, I went home feeling confident in the future of running my Betterclean business. I felt more knowledgeable on marketing strategies, direct emailing and much more that I had felt unsure about before."
Simona lives with her partner Leigh and their rescue pets. She is really looking forward to achieving a better work-life balance after the initial stages of setting up her business. The couple moved away from the city a few years ago and Simona enjoyed renovating their house and decorating during 2020.
"Before becoming a franchisee, I was commuting into London for work which was extremely time consuming. I was working very long hours and had no time left for my personal life, spending little time with my partner and pets. I'm definitely someone who devotes myself 100% to my work, so I'm looking forward to the beauty of being my own boss and being able to manage my own time.
"Before COVID-19 restricted most of 2020, I was also helping my mum decorate her house, so it's something I'd like to have more time to do in the future. I'm also hoping to pursue my love of visiting new places and performing classical music post-pandemic too. There's definitely lots to look forward to now I have the freedom that comes with running my own business."
Simona sees a very promising future for her Hemel Hempstead territory and is passionate about spreading the company's message that cleaning isn't a dead-end job. Simona is looking forward to implementing the Betterclean values in her own team - working hard to deliver a great service to customers and valuing every member of staff.
"I look forward to building relationships with clients and want to give the freedom I feel as a franchise owner to the people on my team. I want my employees to have fun while they work. Cleaning is very satisfying – in particular there has been an immense sense of satisfaction that comes from protecting your clients with the concerns of COVID-19 spreading in workplaces.
"Cleaning might be a job that is stereotyped as mundane and repetitive but, in reality, it can be lots of fun. I'm really looking forward to creating my own little family within the bigger Betterclean family.

"My advice to anyone thinking of becoming a Betterclean franchisee would be don't be afraid to be the one to pick up the phone to initiate the first meeting. The process just flows after you've had the initial chat and personally, I can only see my life changing for the better."
Find out more about the Betterclean Services Franchise and how you can run your own successful Commercial Cleaning Business. Click below now!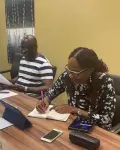 A Strong Start For Betterclean Chelsea!
Ayotunde and Anthony are operating in the Chelsea territory and have had a busy start to their journey with Betterclean.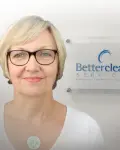 More freedom than I ever thought possible
Caroline made the move to a Commercial Cleaning Franchise coming from a background in hospitality and retail.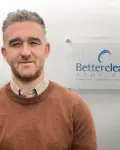 Running a Commercial Cleaning Business in lockdown
Franchisee Liam Godwin started his Betterclean Services Business in August 2020
What

Our Franchisees Say

Over the past 2 years, I have doubled the revenue and far exceeded the growth and income targets I had set myself. Betterclean provides franchisees with robust operating systems and procedures, that have allowed me to focus my energies on building a staff team that I am proud of, on developing strong client relationships, and on delivering a service that differentiates from other cleaning services.Caroline Spiller, Director of Betterclean Services Exeter & Taunton

The support I have received from Head Office has been invaluable, in terms of advice on operational delivery, HR matters and business development, all of which have facilitated steady business growth. I would say that the Betterclean model provides a strong operational framework on which franchisees can build their business in line with their own strengths, interests and personal goals.Caroline Spiller, Director of Betterclean Services Exeter & Taunton

The support and mentorship I've received from the Betterclean team have been invaluable, in terms of filling gaps in my knowledge, but also giving me the confidence to grow my business to a highly profitable £400+k turnover in 4 years.Caroline Spiller, Director of Betterclean Services Exeter & Taunton
Why

Choose Us

Guaranteed £150,000 of business enquiries within the first 12 months

One of the Lowest Monthly Services Fees in the Industry

Work from Home
Related

Franchise Categories
Related

Franchise Types