Introducing Ceri from Lollipops & Ladybirds
Ceri talks to us and tells us how Victoria at The Keepsake Co helped her to set up her own Keepsake business.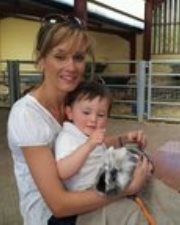 I qualified as a lawyer at the age of 24 and enjoyed a successful career with a local law firm. I absolutely love to work and before I had children, would happily spend hours and hours of extra time at the office.
When Katie was born, I began to realise that time was very precious and found that I became less and less able to put the extra hours in at work. I returned from maternity leave after just 6 months and slipped back into a very stressful environment which did not fit well with looking after a small baby. I struggled to take time off if Katie was poorly and relied heavily on grandparents to look after her for me. I began to resent the job that I used to love so much.......
4 years later Harry was born. This time around I knew that something needed to change. When I walked out of the office on my first day of maternity leave, I made the conscious decision that I would never return. All I had to do now was figure out what I was going to do next. I had to work. I couldn't afford not to but nor could I afford the escalating cost of childcare for two small children. I needed a job which would fit around my family. I began my search......
Meanwhile, when Harry was 6 weeks old, I took him to a local franchise company to have impressions taken of his hands & feet. He was exactly the same age as Katie was when I took her. Money was tight at this point and I was surprised at how expensive the impressions were. I understood why so many people would not be able to capture their child's hands & feet if prices were so high. A little thought process began. What if I could develop a range of keepsakes which capture handprints & footprints from those who are precious to us without costing the earth. Perhaps I could introduce a range of products with a price to suit every pocket?
Over the next few weeks I could think of nothing else. I researched the market and discovered that there was very little on offer in my local area. I visited a beautiful pottery painting studio in Sussex during a visit to family over the Christmas period, to find inspiration and began playing with ideas.
My decision was made. I could see exactly what I wanted to achieve - now I needed to find someone to help me. I spent hours researching products and training courses. I came across Victoria at The Keepsake Company. Victoria appeared to have developed 'my' business already and was offering training courses to help others do the same. I contacted Victoria immediately and booked a studio course. I met Victoria on 31st January 2011 at her studio in Shepton Mallet. I could barely contain my excitement when I left her that day. I wrote my business plan and within a month I had extensive electrical work undertaken at home and my brand new kiln was installed in my soon-to-be workshop.
I spent months playing with ideas, making samples (and lots of mistakes!) developing a brand, creating a marketing plan. Victoria was on hand every step of the way and happy to give much needed advice whenever I needed her. That support has always been incredibly important for me. I launched my business in June 2011 and my journey with Lollipops & Ladybirds began.....
I worked from home for two years, seeing customers on an appointment basis. My lounge became my showroom and my workshop was getting busy. I developed relationships with local Schools, Nurseries and Groups and offered my keepsakes through a mobile business.
Lollipops & Ladybirds has taken me in directions that I would never have imagined. There have been exciting times like being asked to take handprints from actors for the BBC to be displayed in celebration of Dr Who's 50th Anniversary, to very emotional times when I've been asked to take prints from a loved one who has passed away so that those they leave behind can keep a tiny piece of them forever......
I am lucky to have lots of wonderful customers who are loyal and supportive and have encouraged me every step of the way. I am so grateful to everyone who has helped tell the world about my business. I have never been able to set aside a budget for advertising. There was no start-up funding available when I began the business so I had no choice but to invest personal savings. I never take success for granted. I worry every single day that I made the right decision.
In March 2013, Sara joined me and the business really started to expand. There was a demand for our products which, at times, we found difficult to fulfill. I knew that in order to grow the business and create a stable future, we needed a new home.
After months of searching, I found the perfect premises. A brand new shop in the heart of our local Town Centre. Nestled in a leisure complex complete with a cinema, bowling alley and several well known restaurant chains, we opened our doors on 12th October 2013.
Lollipops & Ladybirds Ltd now employs 6 members of staff and our shop is open 7 days a week providing ceramic and silver keepsakes, pottery painting, children's birthday parties and a relaxing coffee shop and play area for our customers to enjoy.
I am incredibly proud of my business but most of all, I am in control of my working hours, have never missed an assembly or sports day and can take care of my children when they are poorly. This is the most important part of all!
To find out more about The Keepsake Co franchise for yourself just click below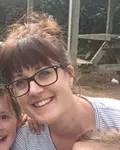 Jemma Pilaca - Peek a Boo Castings
With plenty of guidance and support from The Keepsake Co Jemma Pilaca launched Peek a Boo Castings.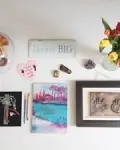 Laura Buchanan is the owner of Two Green Lane
Hear how Laura Buchanan loves being her own boss running her keepsake business.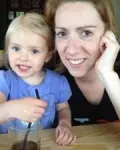 Introducing Lois Hedley from The Wishing Jar
Lois Hedley has joined The Keepsake Co with her own company The Wishing Jar.
What

Our Franchisees Say

From the moment I made contact with The Keepsake Co and to this day I have felt like a valued member of the team. All my questions and concerns are always dealt with in the most professional way. It took me a while to decide on the package I felt was right for me and at no time did I feel under any pressure to commit.Angela, Lemonlily Keepsakes

Victoria is such a brilliant tutor. She takes things at your pace, is full of encouragement and really makes you feel as though you can do anything! I came away from my first session with her and knew that this was going to be an exciting adventure. I worked from home for a couple of years before opening my shop just under 4 years ago.Ceri. Lollipops & Ladybirds

I have found amazing support and advice through the Keepsake Company. Everyone is very accessible, from head office to the members who I have regular contact with through our members only Facebook group. The support is amazing in all the different areas training and mentoring – of social media, training on products, new projects, growing your business and the excellent Mastermind calls we have.Laura, Two Green Lane
Why

Choose Us

No franchise fees, sales royalties or territory restrictions

Build a business owned by you with no on-going fees

A range of flexible low-cost start-up options
Related

Franchise Categories
Related

Franchise Types