Joanne Walker runs her OSCAR business in Winchester
By finding a business to suit her interests and love of animals, Joanne Walker discovered her future career with OSCAR.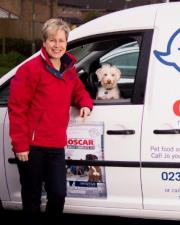 Working with OSCAR has allowed me the flexibility to run a business that suits my home life, my hobbies and even more my customers, because I've found a work life balance that meets our respective lifestyles.
I am always focused and able to motivate myself, and had already started planning for my future. Having researched the benefits of franchising through various avenues, I eventually gained confidence in the concept and was keen to accept voluntary severance from a large IT company.
My wish was granted when I met OSCAR at a franchise exhibition. I have always been associated with animals and to find an opportunity that provided me with both self- employment and pets seemed all too good to be true, and gave me an easy route to making a decision. Prepared for a new challenge and a fresh start, I moved from Shropshire to Hampshire to invest in an area that was clearly waiting for the OSCAR complete pet care service.
I was aware that franchising provided a great foot in the door for a new business because it came with all the elements of guidance, support and comprehensive training. In turn, OSCAR helped me to appreciate the quality of their products and understand how to be a successful franchisee. I was also overwhelmed by the support offered by fellow franchisees, and eight years on that continues.
During my time with OSCAR I have generated a lot of happy customers and seen some very positive results from the products. Being able to resolve many skin problems generated by poor diet has introduced me to many pet related businesses – including a local dog groomer who is very keen to share my expertise with their customers and thus provide me with genuine referrals.
I thrive on positivity, an attribute that is important in business. I continually take advantage of everything that OSCAR has to offer by way of ongoing support. Participating in marketing campaigns with newsletters, leaflet drops and featuring in local media gives me a visual platform when attending shows and calling on customers. I believe that, as with any business, you only get back what you put in and it pays to go the extra mile.
Find out more about OSCAR franchise for yourself by clicking below