Introducing Laurence and Malcolm Slade from Oscar Pet Foods
Father and Son, Laurence and Malcolm Slade, are united in business with Oscar Pet Foods in Kent.
Laurence Slade had a dream that one day he would run his own business, but what type of business remained a mystery until his internet searching presented him with OSCAR.
But why OSCAR? At that time his association with pets was a Siberian Hamster, but more to the point it was the concept of the business that had the appeal. It also appealed to his father, Malcolm, who saw it as an ideal opportunity that they could share.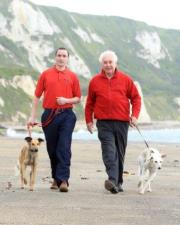 "My career dates back to when I achieved a Masters Degree in planning for the town council," explains Laurence. "Then the recession side-stepped me into a variety of experiences through direct call centre sales, business development and as a consumer advisor for the county council - putting me in good stead for any potential self employment with sales expertise."
"As for Malcolm, he joins me with a wealth of business experience. Having worked in the UK and overseas, his input will be invaluable," says Laurence.
"We explored all the possibilities via other franchises, covering features of marketing, social life and how best to achieve goals, and OSCAR presented us with clear and achievable targets in readiness for us to prepare a business plan. We were made to feel at ease throughout each stage of the transition; the open day at Head Office was well presented, the OSCAR team were patient and more than helpful, and we enjoyed productive days in the field with very professional franchisees.
Investing in a resale gave us a very good start as we were introduced to existing customers in the early stages. Training followed, and that extended our confidence with an abundance of knowledge. It was informative, interesting and impressive, certainly one of the best programmes that Malcolm had experienced in his career.
Now, with time and experience behind us, we followed the system and I have found canvassing much easier than I first thought. I treat it as a business opportunity rather than a casual call thus resulting in referrals to other pet owners."
Laurence goes on to say,

"While I manage deliveries along the wonderful Kent coastline from Folkestone to Dover to Deal and back inland to Ashford, Malcolm covers my back door with office routines and accounts – the one part of the business that needs constant attention!
Having checked out the competition we concluded that our product is total quality and well priced, and we have living proof that we can assist in supporting health issues through diet. Results show general improved coat condition and a massive difference in resolving liver, skin, joint and tummy problems - with customers reporting back on progress.
Socially our business brings us lots of fun; the pets love us because we smell of the previous pet customer while their owners just love to talk. It works especially well for people who live alone and can't get out. Not wanting to be left out of pet conversation we joined forces and adopted two crossbreed Salukis from a local charity, Chance Pixies. We were also introced to a community project and with the help of the OSCAR marketing facility, leaflet drops, poster campaigns and shows have brought success.
We consider our place with OSCAR as a partnership in a large organisation where all franchisees count. In nurturing other members of our family to join us in achieving targets, I want to accomplish personal goals that will result in job satisfaction and give me something to be proud of!"
If you are interested in starting your own Oscar Pet Foods franchise then just click below