Presenting Neil and Lorraine Stapleton who have been with Oscar Pet Foods for 16 years
Neil and Lorraine Stapleton tell us that they are making the most of the economic climate with Oscar Pet Foods.
Committing to running your own business is one thing but to make that business work to suit your lifestyle and bring success starts with OSCAR.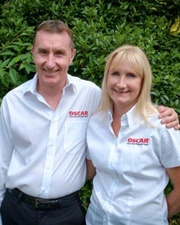 "We said over sixteen years ago that we were starting our franchise in anticipation that its eventual success would provide a good income, enabling us to enjoy a better standard of living and have more quality time to spend with our young family. We stuck to that belief and worked hard, sacrificing a little along the way but now we have total control.
Would we do it all over again? Yes we would! OSCAR has brought us a very special lifestyle. We have been able to work together and to be there to see our children grow up is something we would not have missed for the world.
Having focused on how to save our customers time and money, our business is still growing in an economy that is struggling. Clearly, our quality products can reduce unnecessary veterinary bills and combining that with home delivery, we have made a difference to the fuel costs of shopping for pet food. By researching the market it is clear that OSCAR food is well-priced against our competitors; in addition the quality of our product helps us to reduce feeding rates offering greater value for money. It proves itself time and time again.
We have always worked as a team and while I take control of deliveries Lorraine manages the office and promotional opportunities. One thing we restructured was delivery days and over time we too have cut back on our use of fuel by better planning of deliveries - two days one week and two/three the following week. The rest of the time is ours to enjoy long weekends and/or make use of extra hours to build new business.
We do not take our success lightly always keeping on top of things and over the years we have gained great benefit from working and sharing ideas with fellow franchisees. To have a network of people all working towards the same goal has benefited our progress which we feel is a deeply satisfying way to run your individual business in your individual area knowing that you are visible throughout the UK."
An OSCAR franchise provides the security of a strong brand and protected image that gives you the benefit of running your own business to suit your time and circumstances. Within your own exclusive territory you can provide a convenient and free direct-to-the door delivery service with a comprehensive range of quality pet foods that is supported by an honest label policy – follow the OSCAR system and you will find success.
The opportunity to offer a personal complete pet care service with ongoing expert advice to pet owners, health care products and accessories is unique to OSCAR, bringing many rewards, including repeat business, and the greatest opportunity to meet the UK's 13 million pet owners – who just love their animals.
OSCAR has, over the years, gained the experience and confidence to recognise the importance of making career-changing decisions. So, if you want the freedom and security of running your own business there is no question that your change for the better should be with OSCAR.
To find out more about an Oscar Pet Foods franchise simply click below