Expense Reduction Analysts Franchise
Keith Copestake - "My own successful procurement business and a six figure salary"
10th March 2014
Keith Copestake is proof of the outstanding earning potential of a successful Expense Reduction Analysts (ERA) consultancy, consecutively earning an average six figure salary for each year that he has been a franchise partner. In 2013, Keith was the highest earner of the ERA network with an exceptional annual earning of £433,847.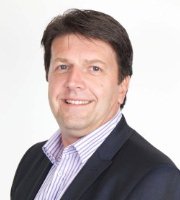 Keith joined Expense Reduction Analysts in 2006 with over 25 years experience in the office products and print industry. His last role was a Director of the world's largest office products and IT consumables company. Keith's career started out in print production before moving on to a marketing role, then into sales of print and office products responsible for pan European and Global contracts.
Based in Andover, Hampshire, Keith's successful procurement practice is currently run from serviced offices near to his home. In his free time, he enjoys cooking, playing golf and watching his favourite football team, Aston Villa.
Since joining Expense Reduction Analysts, Keith has used his extensive knowledge of the office supplies and print industry to successfully uncover over £2.5million worth of savings for his delighted clients in the last 3 years alone.
"When I decided to leave employment, the idea of franchising appealed to me because I felt it was a more viable way of starting a successful business. Following a tried and trusted model means less risk. I was attracted to the Expense Reduction Analysts model because I wanted a white-collar opportunity that suited the management skills I had built over a long career. I was familiar with the concept and could see how it works in practice and why it was a worthwhile investment."
Keith took the plunge into self employment by pursuing the Expense Reduction Analysts franchise opportunity and hasn't looked back. Now he enjoys an enviable work-life balance allowing him to take multiple trips a year, a property in Spain which he bought for cash and a salary most would dream of.
"Being my own boss gives me the control to plan my work schedule. I am a very keen golfer and have had a lot more time to play in Spain. I can fly over to my 'Spanish office' and enjoy the sunshine whilst working. I bought the property in 2013 and I'm hoping to spend between 3 and 4 months of the year there on working holidays. Since buying my Finca in Spain I'm learning Spanish and how to cook raditional Spanish food and drink the wine."
If like Keith you are looking to start your own consultancy franchise then find out more about Expense Reduction Analysts and receive a FREE franchise information pack by clicking below

Expense Reduction Analysts Franchise Case Studies