Expense Reduction Analysts Franchise
Brian Holmes is part of the specialist communications team within Expense Reduction Analysts
14th June 2012
Joining in May 2006, Brian Holmes is part of the specialist communications team within Expense Reduction Analysts and has over 25 years of experience in data communications and telecommunications with a BSc in Electrical and Electronic Engineering.
Brian has held a wide variety of roles including multinational project management, financial and strategic planning, and EMA technical support for major companies such as BT, Ericsson and GE. His last role before joining ERA was as European Technical Support manager within the IT Industry. Brian lives with his family in Wokingham, Berkshire.
1) Why did you decide to take on a franchise and what appealed to you about ERA?
"I had spent 20 years on the corporate treadmill and been made redundant. My first thought was to find another treadmill as it was all I had ever known.
I remember sitting in a job interview and demonstrating that I liked the job, the company, the commute to London was no issue and that I was a good fit for them. At that moment I had an epiphany and realised that I was lying to myself and the interviewer as I didn't really want those things anymore.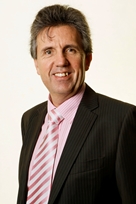 I had no plan b and there were no real job offers which excited me, or that were interested in my expertise. I was reading a newspaper and spotted an advert for an upcoming franchise exhibition and thought it would be worth attending. I spoke with a few different franchises at the show, but it was ERA that really stood out.
With ERA, it was easy to quickly assess the potential return on investment when broken down per hour. With my degree in electrical engineering I did think about becoming an electrician, but the hourly rate whilst ok was not high enough to get excited and with a limited amount of hours in the day, I wanted to make sure that I made every second count.
When you look at the ERA franchise model the potential for return is a lot higher when compared with other franchises that are out there in the market, this when combined with the flexibility of a home based franchise really made in a no-brainer.
What really stands out about ERA is strong level of cooperation between franchised consultants, which means the potential for income is huge, especially as with large clients you wouldn't be able to do all of the projects on your own. Being able to talk to any prospective client and know that there is someone within the group who can handle the project is a great comfort.
When you look at other franchises in the marketplace, you can see that their franchisees compete against each other which is crazy. Within ERA we don't have that as much as there is a strong degree of cooperation; you run your own business but are part of large organisation just without the management headaches. You can see that at the core we are still a family run business, and this shows in the way that we all work together, including the franchisor".
3) In what way did your earlier experience in other areas/careers help?
"My background within the communications industry really helped me gain credibility within that market, but ultimately my experience of operating at a senior level gave me a degree of comfort, this comes in really handy when presenting reports to the board of directors or when meeting with prospective FD's".
4) Have there been any unexpected challenges or especially challenging cases?
"A lot of people thinking that working from home is a major challenge but for me this was never a problem, which is a result of not having a direct line manager for a long time in my previous employment. I was used to working on my own and managing my own time effectively.
When you speak with other consultants, they tell you that you have good and bad days, where you may not be as focussed and you do a little less, but experience tells you that it is a normal part of working from home and you just make the effort the next day to catch up.
The biggest challenge is adapting to the pace, everything seems to take longer to get done than you anticipate, especially when trying to get decisions from clients and building that initial pipeline. Since I joined the Academy Business Manager has been introduced to sit alongside new franchisees to support them throughout their first 12 months and to keep them on track".
5) Do you think a background in business is essential?
"What makes an ERA consultant stand out is having confidence in your subject. When you sit in front of a Financial Director and they realise that not only are you passionate and believe in what you are going to do for them, but also answer their questions on a technical level it makes the whole process so much easier, and the client quickly recognises that you are someone that can be trusted."
6) What does a typical day look like? What do you love about your work now?
"For me no two days are the same. On average (in a week) I will spend three days in the office and another two days out of office.
When I am in the office I do a mix of audit work (projects for existing clients to make sure they are getting the right service levels and prices) and new project work (benchmarking their current prices and making recommendations for improvement. Roughly 70% of my work is for existing clients.
When I am out of the office I may be in a meeting with a client to highlight the value we have added to their organisation or meeting a supplier. ERA is different in that we are 100% independent and don't take fees from suppliers, this means that supplier relationships are based on trust and on how we can help them and our clients. Suppliers respect us for this independence and our clients do too".
7) What would you advise someone who took on an ERA franchise?
"Like every franchise opportunity, you really need to budget properly for at least the first twelve months. You also need to make sure that this really is the right franchise for you. A franchise is not just a financial commitment; you need to be considerate about the amount of time that you need to invest also".
8) What are your plans for the future?
"The ERA franchise model works, so for me it is just a case of continuing to do what I'm doing. I have no plans for expansion and im happy being responsible for just me, unlike corporate life where I was responsible for teams of people.
I also want to spend more time playing golf, ERA regularly holds golf days and we have about 25 consultants who regularly take part. I guess that is one of the main strengths, if you want to play golf, just meet up for a coffee, or have a question you can find at least one person within the ERA community that wants to be involved."
To find out more information about Expense Reduction Analysts franchise click below to request your FREE franchise information pack


Expense Reduction Analysts Franchise Case Studies