Expense Reduction Analysts Franchise
"I chose Expense Reduction Analysts because of the client offering and spirit within the network""
9th August 2011
Based in Leeds, Paul Duesbery had wanted to work for himself for a while. When redundancy came, it provided him with the impetus and the resources to make that dream a reality.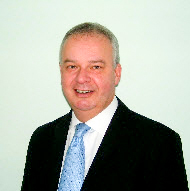 "I looked at various franchises. Given my background with KPMG, a B2B proposition appealed more than B2C. I decided on Expense Reduction Analysts because of the breadth of the client offering, and the spirit that I felt was there in the network.
"It was, if you like, taking half a step out of the corporate world – working for myself but still having the support of the network behind me.
Paul's initial challenges included the change of working independently: "I did miss the buzz of being in an office environment, but I soon found that everyone I talked to within Expense Reduction Analysts was extremely helpful. I was not on my own.
"It is unrealistic to expect established franchisees to handover projects to someone who is unproven. I have taken time to get my approach clear in my own mind. And I do think that in the right circumstances telemarketing has a part to play in getting us in front of people – in fact, I have had 7 appointments as a result of telemarketing alone.
Be open-minded at first, step back and think about what you want
What advice would Paul give someone thinking of buying their first franchise? "Due diligence is key. You have to talk to as many franchisees as possible, and gain the benefit of their experience. Be open-minded at first, step back and think about what you want. Then you can whittle it down, as I did, to B2B options, and then finally to Expense Reduction Analysts.
"I would also recommend that people do as much preparation as they can. Do simple things like getting as much of their home office set up as possible. Brainstorm your lists – think about all of the business contacts or friends who could possibly provide a lead. Only today I have been talking with someone I did business with fifteen years ago.
"I would recommend that people exploit the spirit of the network as much as possible. Go with established franchisees on their meetings, and see how it's done. That is where the network comes into its own. Then, on your own first appointments, you can take a proven franchisee as a mentor in with you, which is a huge help."
To find out more information about Expense Reduction Analysts franchise click below to request your FREE franchise information pack

Expense Reduction Analysts Franchise Case Studies