How Mastering Facebook Transformed Sue Aitken's Travel Franchise
A couple of months into her new business, Not Just Travel franchise owner Sue Aitken was frustrated…
Despite her hard work, she simply wasn't seeing the success that others from her training group were. They'd all started making bookings right away, while she was yet to make a single sale.
Thankfully, she was able to access daily support from her Partnership Manager as well as attend free ongoing training from the company.
Within a few months Sue's bookings were growing slowly but surely. But she knew there was much more business out there for her to go and get.
Then one day everything clicked, thanks to some free expert digital marketing training provided by Not Just Travel head office.
She was shown how to leverage Facebook Lead Ads like the world's top marketing agencies, only with a fraction of their budgets.
Now she credits that training with creating up to 70% of her bookings.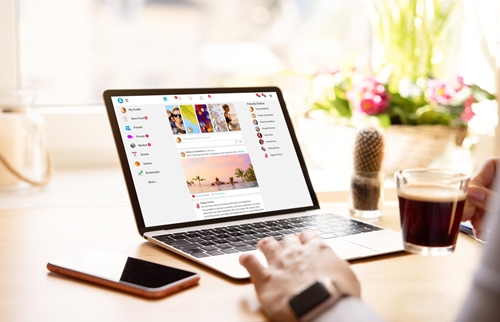 "It (the free masterclass) was brilliant," she said. "I started to experiment with different styles of ads. It's brought in some brilliant bookings. One customer didn't know me - but we developed a relationship and they booked a 5 star holiday in the Maldives for March… and then again in December."
Sue doesn't opt for hard sell. Instead, she sends a tailored message to everyone who responds, before following up with a friendly phone call when the time is right.
Luckily, one of the great things about selling holidays is that everyone wants one - and they're prepared to share information early.
Sue explains that she can find out a great deal about her prospective customer before they even speak.
Her tailored ads mean she can find out where they're thinking of travelling and when they want to go. That means, as soon as they start talking about holidays, Sue can always be ready to discuss their destination, the climate and offer advice they may need to know.
Thanks to her new-found mastery of Facebook's platform, Sue's found customers that want luxury holidays - and lots of them. One customer has already spent over £108k on holidays inside less than a year.
You do need a franchisor who's prepared to match your level of effort and will provide you with ongoing support.
As long as you have that, Sue's advice to anyone starting a franchise who hasn't made it quite work yet, is to keep trying until something clicks.
Then keep doing more of what you know works for you.
"Just think. Can I do this a bit better this time? Is there anything I can do that's maybe a bit more creative? If you can improve a little bit each day, it will be a massive transformation over time for your business."
To find out more about starting your own Travel Franchise just click below

What

Our Franchisees Say

'The Travel Franchise offers you everything you need to create a successful travel business and to be your own boss. It's hard work, but starting a new business is within any sector. The growth in the business and quality of the training and materials you are equipped with really puts you in a superb position to build a fantastic travel business.

'I've more time with my family now. I have more time to get away with my family. It's given me a new lease of life and something to be joyful about.

I did £340k of turnover in my first year. I'm now looking for my next challenge, reaching 1 million turnover by the end of year 2.
Why

Choose Us

Win your franchise fee back with our Money Back Challenge

Uncapped earning potential

Work from home part-time or full-time
Related

Franchise Categories
Related

Franchise Types