Expense Reduction Analysts Franchise
Paul Davidson Wins ERA Consultant of the Year 2013
6th November 2013
And the winner is… former banker Paul Davidson!!
At ERA's annual conference Paul Davidson from Kent, was named the ERA 'Consultant of the Year 2013', the most prestigious of Expense Reduction Analyst's annual franchise partner awards.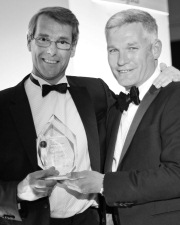 The award is for the franchise partner who best represents the ERA brand through working in the interest of their clients and the franchise network as a whole. All Paul's hard work certainly hasn't gone unnoticed
"I couldn't believe it" says Paul. "There are so many other talented consultants within the network – I was rather honoured even to be considered let alone to win! But it's a great example of the recognition and support you receive at ERA. There is very much a feeling of togetherness across the network."
Former Life
After 25 years in financial services, Paul decided it was time to move on as he wanted more freedom and a lifestyle where he was in control of his own future success as his own boss. Paul began his search looking for a business opportunity that would enable him to benefit from the expertise he had built up, whilst provide the freedom and control he sought. After attending one of the National Franchise Exhibitions, Paul found ERA.
Paul picks up the story:
"Any business needs to have a unique selling proposition and, frankly, I didn't have a unique idea to start up on my own. I was interested in a business model that was known to work. I looked at a training franchise, which I got very close to, but when I discovered ERA I could see they were vastly different – what stood out is that ERA delivered what they promised and had real substance behind them."
From strength to strength
Paul joined ERA in June 2005. From there, Paul started his training and was quick to discover that the ERA business model is founded on a very strong support network, providing all its franchise partners with the right expertise to satisfy the needs of almost any client. This enables franchise partners to grow their businesses more quickly by building specialist consultancy teams for each client project from within the network.
"What struck me was just how generous people were with their time. The knowledge within the network is phenomenal. I soon realised that the more internal relationships you form, the more knowledge you can pass onto your clients, increasing the relationship and service offering to the client – your business offering becomes immeasurably stronger."
More recently, Paul has been involved in developing ERA's Payments Team – a team of former bankers that provide additional specialist advice to clients. This has allowed Paul to develop a broader offering for his business, which also benefits the network as a whole. He envisions growing this further in the future, as well as helping to deliver more success to his clients.
When Paul is not busy winning awards, you'll find him relaxing at home with his wife and son or playing golf 'very badly' (his words) with friends! But he always has one eye on the future:
"I'm always mindful of the future and I want to keep growing my business. The key is to build strong relationships and the money will follow. This is a full time commitment and people who work hard will succeed."
To find out more about the ERA franchise opportunity for yourself click below to request your FREE franchise information pack

Expense Reduction Analysts Franchise Case Studies