Sarah joined the sparkly team of inspirers in 2017, and since she's been inspiring the children and adults of Bury North in classes, parties, events, and more!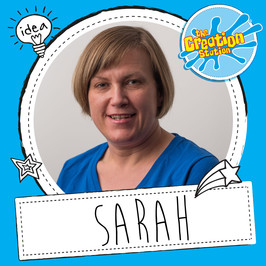 We spoke to Sarah about running her Creation Station Franchise and here's what she had to say;
What's your favourite thing about running Creation Station?
My favourite thing about The Creation Station is the fact it has given me a new and exciting opportunity in life! After being a teacher for 20+ years I was ready for a new challenge and CS came along at the right time! I love being my own boss, making my own decisions and trying hard to make my business grow. No week is ever the same and that's so exciting!
What's your most memorable moment so far?
I guess if I can choose 2, which I hope I can, then recently winning Raring 2 Go award for Bury's Best Pre-School Class was fantastic and totally unexpected. The comments I received from my customers, when they knew I'd won, were totally overwhelming and touching. Also being filmed for 'My First Art Class' for CBeebies was pretty special too! Although I really don't enjoy watching myself back!
What does the future of Creation Station Bury North look like?
The future for CS Bury North is very important to us as a family. My partner and I have worked hard to see it grow in a way that works for us. We have invested a huge amount of time and energy into the business and I feel so proud for what we have achieved. My aim has always been to give families the opportunity to make creative memories together...I hope I can continue to do so. That will make me so happy.
Do you have a creative tip for our readers?
I always tell myself enjoy being creative and remember your own creations are always the best...made with love and sparkle!
If you are inspired by Sarah's story, then find out how you can run a flexible, creative business by clicking below