Are you using your skills, drive and passion to achieve the success, fulfilment and happiness you deserve?
The UK's multi-award-winning leading creative activity company, The Creation Station, established in 2002, inspires over 20,000 toddlers, children and adults each week though their family of 100+ franchise owners.
Over 5,000 customers have rated their activities 5-Star and they are ranked #15 in the top 100 UK franchises.

"The Creation Station are a force for good, bringing creativity within communities."
Richard Branson
They say the definition of madness is 'doing the same thing and expecting different results'. If we never create change, before we know it, the years fly by, the kids will left home and we are still in rut with more regrets.
It doesn't have to be this way.
More people than ever are running their own business franchise and 37% of new franchise owners are women. Many successful Creation Station Franchisees have never done anything like this before. However, with the comprehensive training and ongoing support, you can gain the skills, know-how and confidence to run your own successful Arts and Crafts Business.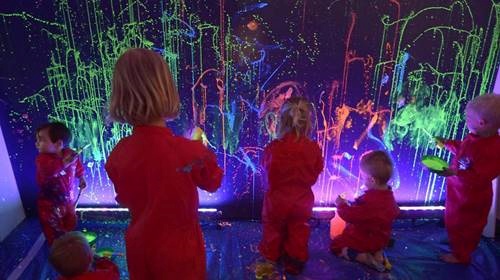 The Creation Station Franchise Opportunity:
There is an increased demand for creativity in parenting, preschool, education, leisure, wellbeing and care homes. To help us inspire more toddlers and families, children and adults, The Creation Station are launching three special 'Licences To Inspire'.
Now, you have the option to invest in a Creation Station Franchise that enables you to choose the area within the community you want to specialise working in. This means that you can now choose the perfect option to work around your personal commitments.
The three new exciting 'Licences To Inspire' include:
Family Licence – this includes Tiny Treasures craft keepsakes, Baby Discover, Little Explorer & Family Fun classes.
Create Club Licence - this includes After School Clubs, Holiday Clubs, Saturday Clubs, Home Education and School Workshops.
Adult Licence - this includes Creative Crafter sessions, Crafternoon Tea for retired groups, Care & Creativity for the elderly and Intergenerational Workshops.
You can a invest in a single licence, or multiple licences depending on your circumstances and aspirations. To help make your start up as easy as possible The Creation Station have made the cost of starting your own business really accessible.
The Investment
Each of the 'Licence to Inspire' starts at £4,999 plus VAT (£5,999) and includes a whopping £2000 worth of tools and materials.

"I could of only have dreamt of running my own business, but I mean where do you start?! Investing in my own Creation Station Franchise means investing into a whole network of support, that's really important to me.
I can gain help, advice, and support anytime. I'm learning a lot. I feel confident and whilst not everything has gone to plan it's good to have challenges because it motivates me to try even harder to be the very best I can. I smile every day! I love being my own boss, I've time to sing in a choir and play saxophone in a band without worrying about getting everything done. Sometimes I even go out on a school night!" Emma McCalla John Inspires imaginations in Harborne & Batley
Find out more about The Creation Station Franchise and running your own successful Arts and Crafts Business. Click below now!

What

Our Franchisees Say

I've been running my own Creation Station franchise since the end of last year and love it! The head office team are fantastic and the support and advice I've received from them has been invaluable.Kirsty Hickson

I invested in my Creation Station franchise just over a year ago and haven't looked back since!Sara La Roux

I have been running my Creation Station franchise since March 2013 and I can honestly say they have been the most fun filled happy months in employment I have ever had.Kirsty Hickson
Why

Choose Us

You can run your own flexible business and help inspire children's imaginations with the UK's leading art & crafts activity company, Us!

Perfectly designed for a Mum who wants a family friendly financially rewarding future.
Related

Franchise Categories
Related

Franchise Types