Introducing Ruth Morris from The Creation Station Aberdeen
Ruth Morris, owner of The Creation Station Aberdeen and winner of the Best New Franchisee 2014, shares her story of her first year running her own successful business.
Running my own Creation Station franchise fills me with confidence, excitement, ambition and satisfaction.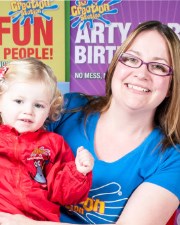 What began as an ambition to launch a small, flexible family-friendly initiative has become in only ten months an all-encompassing roller-coaster of ever increasing highlights.
I was seeking a new direction far flung from the local authority environment I was engaged in. Whilst in employment my children were in wrap around childcare for a decade and for me personally the financial rewards could never compensate for me not having time with my children.
Running my own Creation Station franchise has provided me with the opportunity to have the flexibility I want, to work with children and support families and to be creative, as well as being my own boss an benefiting from my own hard work.
I was awarded my Creation Station franchise in March 2013 and immediately began marketing and securing my first venues. Within a couple of weeks of completing training I delivered eight Easter launch events and as word spread I launched with six weekly Little Explorer and Baby Discover classes. Word kept spreading! So during the summer I provided forty four Family Fun holiday sessions, leading to the launch of a further three new classes in my second term. In the nine months from April-December 2013 I provided 252 classes for 2,474 individual child spaces, far exceeding all my expectations.
In terms of business growth I dreamed of working with 50 children weekly by my first summer, I imagined 75 children in my second term and believed it was pie in the sky to support 100 children in my third term. However the actuals have been much higher than my initial business plan. In January 2014 I was ecstatic to book 110 spaces in advance of classes, realising that dreams can really come true.
From the moment I was awarded my franchise I have marketed my business, implementing the top tips and ideas from Head office and the network as a whole. This includes Facebook, leaflets, posters and launch events, but the most powerful tool has been word of mouth recommendations. I encourage my families to share their experiences. Their enthusiasm is building my business, fueling my vision for the future and confirming every day that I have best career in the world as I'm helping to inspire children's imaginations and running my own successful creative business.
But what about my work/life balance? Have I lost sight of my original drive to seek a new better path? Far from it. In those first nine months I enjoyed three months of holidays, relished an entire summer with my children, and developed new friendships for whom I previously overlooked, moved home and used my earnings to furnish our new farmhouse. I have held my daughter's hand as she started school and have stood in the playground when the bell rings at 3:15 every day. And all of this only possible because of my Creation Station franchise.
The future is rosy; I am recruiting party and seasonal staff, developing new venues, building partnerships & engaging with charities. Running my own Creation Station franchise fills me with confidence, excitement, ambition and satisfaction. Every goal I set and achieve reinforces my growing retaliation I am a professional, creative businesswoman capable of having the ultimate career whilst providing a loving & secure family life for those most important to me; Lexie, 5, Connor 11 and my biggest supporter, my husband Steve.
Do you want a thriving professional career where you can achieve the flexibility you want and benefit from you own hard work? Would you like to know more about The Creation Station? Simply click below
What

Our Franchisees Say

I've bought my franchise from a lady, who has been running it for 18 month at the time and I am now in my 3rd year and am LOVING it!Alexia Ispani

I invested in my Creation Station franchise just over a year ago and haven't looked back since!Sara La Roux

I've been running my own Creation Station franchise since the end of last year and love it! The head office team are fantastic and the support and advice I've received from them has been invaluable.Kirsty Hickson
Why

Choose Us

You can run your own flexible business and help inspire children's imaginations with the UK's leading art & crafts activity company, Us!

Perfectly designed for a Mum who wants a family friendly financially rewarding future.
Related

Franchise Categories
Related

Franchise Types