Case Study of Erika Doerksen, The Creation Station
"I wanted to have the freedom of choosing my work hours to fit around family life. I knew I wanted to work with children and be my own boss." Erika Doerksen, owner of The Creation Station Diss, Norfolk franchise
Coming from a creative family and having two crafty daughters myself, it was important for me to be able to work with children and be creative at work. I had worked in a crèche and as a nanny for 2 years, but when I started looking at what to do after having children I had different priorities - I wanted to have the freedom to choose my work hours to fit around family life.
I wanted to make my own decisions and be responsible for my successes and failures; I wanted to be the person benefitting from my hard work, not somebody else.
I looked into many different franchised businesses for women and mums. I really liked the idea of a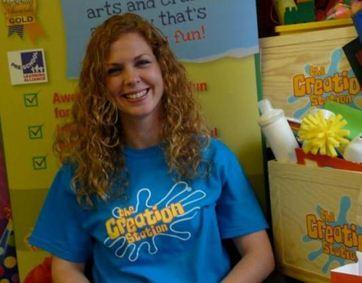 franchised business because of the start-up support, training and established business model that you're buying into.
My friends were quite doubtful on whether it was a good idea, I think it's hard if you don't get the support you would like but it was only my husband's support I needed and he thought it was a great business opportunity too.
The idea of running your own business is quite daunting, so the Discovery Morning I attended was important to me. It was very helpful and answered all the questions and doubts I had arrived with.
Training what not only a time of learning the business and how things are run, but also a time to bond with other new franchisees.
This really helped following training in the support calls and hand holding as we were there for each other as well as head office support. In addition to the on-going support, I found the franchisee forum a great help, having a support network of people who understand your worries is essential.
The learning curve when you start running classes is massive! I was nervous in the build up to me first class but I was calm and feeling settled after the first week. I felt confident very quickly at explaining what I did to people and I was encouraged at seeing how the word about my classes was spreading.
I have only been running it for 5 months although it feels much longer. I'm now at the stage where holiday sessions fill within a day or so of advertising them, party enquiries are flowing in weekly and more mums are signing up for the whole programme. I'm looking forward to seeing where I am in another 6 months.
The reaction from children and adults has been very positive. Lots of people comment that there is nothing like this in the area and when their children leave they are singing the songs and don't want to wash off their superstar stamp. I have some parents that travel from the large towns and cities to attend my holiday sessions. That's almost a 50 mile round trip.
The future is full of opportunity. I feel a lot of the foundation has been laid and it's now much easier for customers to find me and I've also got a good reputation as a party entertainer, which really helps.
To find out more information about The Creation Station Franchise click below
What

Our Franchisees Say

I've been running my franchise for a year and I love running my own business and being in charge of my own future. It has enabled me to enjoy more time with my family than I would otherwise have had and allowed me to see my baby grow into a little boy.Claire Darnley

I have been running my Creation Station franchise since March 2013 and I can honestly say they have been the most fun filled happy months in employment I have ever had.Kirsty Hickson

I've been running my own Creation Station franchise since the end of last year and love it! The head office team are fantastic and the support and advice I've received from them has been invaluable.Kirsty Hickson
Why

Choose Us

Perfectly designed for a Mum who wants a family friendly financially rewarding future.

You can run your own flexible business and help inspire children's imaginations with the UK's leading art & crafts activity company, Us!
Related

Franchise Categories
Related

Franchise Types