Trophy Pet Foods Franchise
Run your own Pet Food Delivery Business with Trophy Pet Foods!

The Trophy Pet Foods Franchise is an established, yet innovative brand in the pet food sector offering people the opportunity of running their own Pet Food Delivery Business.
As well as a sizeable pet population, changing attitudes and trends in pet care have provided opportunities for unique businesses. This includes an increased consumer and industry awareness of issues like pet allergies and obesity amongst pets, alongside a greater understanding of how nutrition can have a positive impact on pet wellbeing.
The way in which we consider the role of pets today has also influenced the market. PetPlan's Pet Census in 2018 revealed that 49% of UK pet owners consider their pet to be a family member. In addition to this, the Covid-19 outbreak has seen a significant increase in demand for home delivery services, making Trophy Pet Foods an even more attractive proposition in this ever-changing marketplace.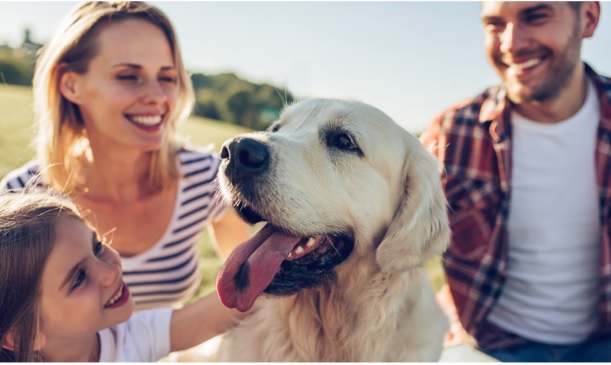 The Trophy Pet Foods Franchise opportunity:
Trophy train, support, and guide franchisees along the way. Their tried and tested formula combining a launch programme and support package, is designed to ensure every new franchisee can grow and develop an exceptional local Pet Food Delivery Business. There is immediately the strength of a large organisation behind you – a proven system.
The benefits of becoming a Trophy Pet Foods Franchisee:
Flexible working hours, working from home to suit both you and your customers
Exclusive area
Established British brand, manufactured in their UK plant
Sustainable high margins
A proven brand with over 30 years trading experience
Huge job satisfaction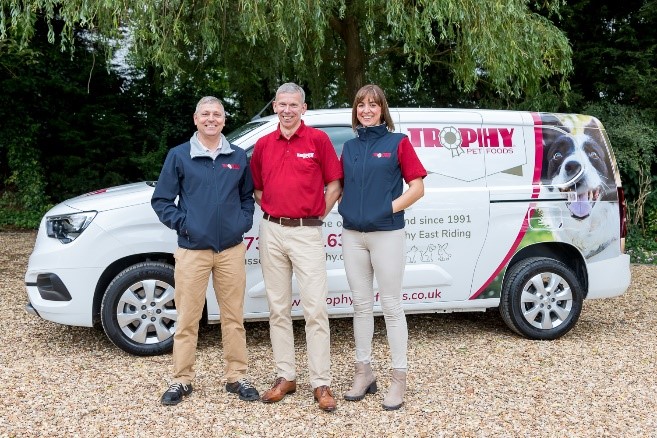 All Trophy pet food is manufactured in the UK, where all the nutritionally balanced and complete dry feed is manufactured in their dedicated mill.
Trophy Pet Foods have a pet first approach to nutrition and have a portfolio of recipes formulated specially to meet the needs of pets, no matter their life-stage, taste preferences or dietary requirement. Whilst Trophy Pet Foods adopts a pet-first approach, it also recognises the changing needs and requirements of the modern-day shopper so has a collated a range of products to suit price point and personal preference.
Franchisees will be trained to offer free nutritional consultations and life-stage reviews, so every customer can be reassured that their pet is receiving the best food for their individual needs. Trophy's approach to customer service is to be happy, helpful, and caring. Helping customers choose the best option and right food for their pet is an essential part of this.
Customer service is a priority with free nutritional advice, free home delivery, one stop shopping and free samples, all being available to the Trophy Pet Foods Franchisee to promote to their customers. Trophy works closely with each new franchisee to establish customer base within the first few months.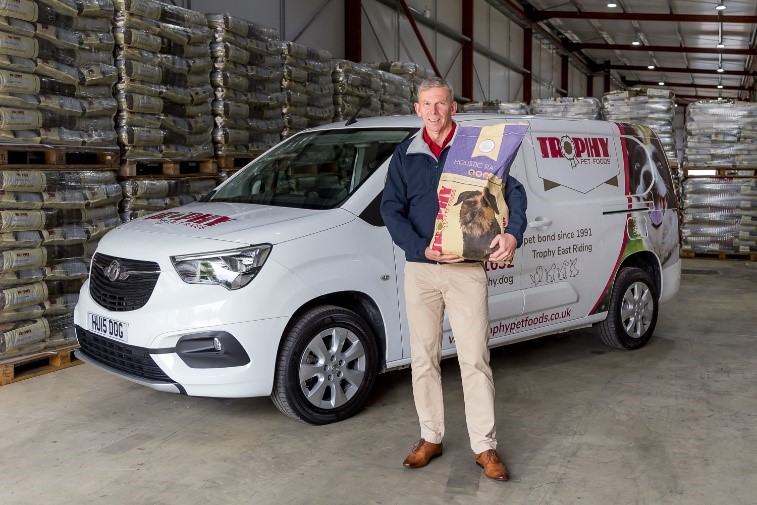 Training:

The first 4-days training (spread over a week) kick starts the business. Followed by 4-days of in-field training in your area with a member of the Franchise Development Team (FDT). This is then followed by a 1-day workshop, after approximately 3 months of trading, to review and discuss your new business, consolidate, and plan for the future.
The Investment:
The Trophy Pet Foods Franchise Investment Fee is £13,995 plus VAT and includes all the above; there are no hidden extras. The franchisee will also need to fund a medium size van and have working capital to support the initial period of trading. (Funding available)
Find out more about the Trophy Pet Foods Franchise opportunity and running your own successful van-based Pet Food Delivery Business. Click below now!
What

Our Franchisees Say

Delighted with my first year, we ended year one ahead of target.Pamela Conroy

Job satisfaction is key and we have found it with Trophy.L Weir

The best thing I have every done – should have done it years ago!John Thurley
Why

Choose Us

Individual support and back up, with Trophy you are not a number

Low cost entry, big rewards, great job satisfaction

British Pet Foods
Related

Franchise Categories
Related

Franchise Types