Travel Franchise couple sell over one million-worth of holidays this year
4th September 2023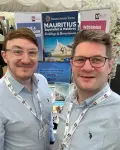 The majority of businesses, on average, take two to three years to become profitable while franchises, however, have a much faster scale-up and success rate.
One example is married couple Matt and Ash, who invested in The Travel Franchise in 2022 and are on course to earn an impressive six-figure income in their second year - whilst travelling the world at the same time!
While Matt and Ash have owned successful businesses in the past, neither had ever worked in travel before but they have quickly adapted to selling holidays under the franchise's consumer-facing brand, Not Just Travel.
Like 98 per cent of people who join The Travel Franchise, they knew they had many crossover skills and that a 'business in a box' franchise, tailored to those new to travel, would provide less risk and have the potential to grow quickly.
But even they didn't realise how fast that growth would be…
Despite only starting their business after an intensive 5-days training 17 months ago, they have already taken £1 million worth of bookings this year. And they haven't been tied to their home office… They've travelled abroad over 14 times.
"Our target was £1.3 million in 2023 but we've now raised that to £1.5 million. And by the end of the year we would have travelled abroad around 18 or 19 times! It proves this is a flexible business!"
They have also proved it's possible to make record sales even during summer, traditionally a quiet time for travel agents.
They've taken over £250k-worth of bookings in July and August 2023 despite being abroad for 3-4 weeks - and there's still a week left of August!
"At the beginning of the month we were on a river cruise and we still did £50k of bookings. The joy of this business is that you can do bookings on a laptop wherever you are in the world… and we do!" says Matt who enjoyed four cruises with Amadeus, Virgin Voyages and RCI in the past eight weeks.
Matt also made holiday bookings while in Mauritius on NJT's infamous Elite Experience, a luxury retreat which combines exploration in an exotic destination with business training in a classroom setting. The trip included nights at several upmarket resorts belonging to Beachcomber, one of NJT's key trade partners.
"I sold two Beachcomber holidays while I was actually in one of its resorts with Not Just Travel and then another six or seven on my return. We love the product - the results are amazing. In fact, I'm now on the phone to them several times a week and have just booked another £20k wedding at one of their resorts."
While Matt and Ash are enjoying an impressive income, there are of course business costs including an initial investment of £14,995 (+vat) for The Travel Franchise's most popular Elite package.
However, the company will refund that sum under its Money-Back Challenge if franchisees earn a set amount of commission in their first year. Matt and Ash achieved this figure so they are essentially getting their business for free.
So if you're weighing up the pros and cons of starting your own business, you may want to consider a Travel Franchise. One that has the ability to grow quickly, while you travel the world like Matt and Ash.
Find out more about The Travel Franchise and becoming a home based travel agent! Click below now!
What

Our Franchisees Say

'I've more time with my family now. I have more time to get away with my family. It's given me a new lease of life and something to be joyful about.

I did £340k of turnover in my first year. I'm now looking for my next challenge, reaching 1 million turnover by the end of year 2.

'The Travel Franchise offers you everything you need to create a successful travel business and to be your own boss. It's hard work, but starting a new business is within any sector. The growth in the business and quality of the training and materials you are equipped with really puts you in a superb position to build a fantastic travel business.
Why

Choose Us

Uncapped earning potential

Work from home part-time or full-time

Work the hours that suit you
Related

Franchise Categories
Related

Franchise Types