Incredible demand for Jam Coding services
10th October 2023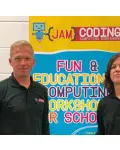 Jam Coding's newest franchise owners are heading into the 23/24 academic year with a very full diary. Combine huge demand for our products and services with the backing of an incredibly experienced team and you get a busy, exciting and rewarding start to your business journey.
Take Sharif Choudhury, for example, who runs Jam Coding Essex West. With the help of our business development team, Sharif has nine school bookings and three more schools waiting to work with him.
Not only has Sharif had a busy start to his sales journey but with two meetings with New City College London group of colleges and Higher Education providers he is also relishing the prospect of a managing a growing team.
"The support and training I have received has allowed me to go from standing still, with no knowledge or presence in my territory, to having a solid foundation for my business.
The launch process has produced remarkable results in both sales and recruitment and has paved the way for future success.
Going into the new academic year I am excited to continue to manage my team and customers to take the business to the level I have been shown it can achieve."
Over in Watford it's the same story. The team there are fully utilised delivering to full clubs whilst there is a queue of schools waiting to work with them.
How do Jam Coding Franchisees get off to such a flying start?
As soon as you become a Jam Coding Franchisee, our business development team gets to work.
That means ringing prospects and garnering interest, following up conversations, keeping an accurate and up-to-date log of all communications and of course, closing the deal to give you the very best start for a successful first year in business.
This program has been hugely successful in finding opportunities and supercharging sales for both new and existing franchise owners.
General onboarding support
In normal circumstances, getting your infrastructure in place can be challenging but our support team will be there to guide you through those first months and beyond.
Whether you need to set up your insurance, manage your accounts or start promoting your clubs, you can rest assured that you'll be well-informed about what happens next.
A solution for every requirement
Jam Coding is one of the largest providers of computing education in the UK.
From after school clubs, to enrichment sessions, to continual professional development (CPD) programmes, our offering includes a wide range of solutions to help teachers elevate the quality of computing at school.
Our bespoke curriculum, a flexible solution which gives schools access to a plethora of resources, enables teachers to become certified in the delivery of computing, whilst guiding them through lessons with step-by-step guides and a virtual subject specialist.
As industry leaders with such a wide range of solutions, experience, passion and flexibility, we are able to meet the needs of schools across the country. That's why our success rate is so high!
Training
As a franchise owner you'll be required to learn our processes and become certified before you can go into schools and deliver sessions.
Luckily, our learning management system (referred to internally as Jam Coding Academy or JCA) makes this a simple task.
JCA is used to train all members of staff on all aspects of the business. Whether you need to refresh your safeguarding knowledge, learn our sales process, induct a new member of staff or get to grips with one of our workshops, JCA will show you how, step-by-step.
Good preparation at the start of your business journey directly correlates to the success of your business.
Computer Coding Opportunities
At Jam Coding, your success is our success. We will be there at every step of the way to promote your business and celebrate your wins. After all, our aspiration is to work with as many of the 12 million young people in the UK as possible to help them to a better digital future.
We can only do this with well trained and dedicated franchise owners. Could this be you?
Find out how you can run your own Coding Franchise with Jam Coding. Click below now!