Share in the Success with a Jam Coding Franchise
2nd October 2023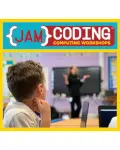 Taking the digital world by storm with 30+ franchisees launching since 2020, Jam Coding have left a path of positivity and success in their wake.
"Within three years we have become the largest UK based coding education provider operating within UK Schools. An achievement we are very proud of." – Roger Grogan, Founder and CEO
Jam Coding's ever-growing network of UK franchisees are on target to achieve their predicted financial goals, they are also on track to achieve Roger's overall goal of delivering cutting-edge digital classes to children from all backgrounds.
In fact, Jam Coding have taught 15,000 young people through After School Clubs in the 2022/23 academic year and 27 Holiday Clubs will run nationally this academic year.
How HAF Helps Drive our Success
HAF (Holiday Activity and Food Programme) is a scheme introduced in 2018, it provides healthy meals and enriching activities for thousands of children and young people aged 5-16 during the Easter, Summer and Christmas school holidays. The scheme is funded by the Department for Education and is open to families in receipt of benefits-related free school meals.
This has been a great extra resource for Jam Coding as HAF funded delivery partners, in helping franchisees achieve their financial goals whilst also enabling Jam to reach every child in giving them access to a digital education. Jam Coding have had HAF contracts awarded in the Lancashire territory to the value of £32,000 for last summer alone.
The HAF programme has been delivered across many of Jam Coding's franchisee network to over 1000 young people nationally (in the 22/23 academic year) that wouldn't otherwise have been able to attend holiday clubs or access a digital education provision.
Recent Franchisees Success
In the last 12 months Jam Coding have seen 8+ franchisees onboard, reaching areas such as Milton Keynes, Watford, Cheshire, Peterborough, Essex and London to name a few. Each area has had a great start to their first year in business…
Watford launched with 9 School Products in just 3 weeks.
Essex West launched with 8 school products in just 2 weeks.
Milton Keynes had an out of school and holiday club setup within the first month of being active
Cheshire West cemented a Holiday Club contract for 7 weeks through 2023/24 academic year to the value of £75,000
Peterborough, London TW and London NW are all achieving above and beyond their set targets
All of these positive actions have led Jam Coding to really stand out from its competition. The hard work put in by franchisees as well as the support received from Roger to launch, grow and develop each new territory has positively impacted not only franchisee's profits but the children they teach and the communities in which they reside.
Over 230 Code Coaches have been employed by Franchisees nationally this year, strengthening our economy and building the digital workforce within education.
Find out how you can start your own Children's Coding Franchise with Jam Coding, one of the UK's leading STEM Franchises.
Click below now!