Papa John's Franchise
Features
Events
Videos
Resales
CPL Pizza Restaurants Opens Two More Papa Johnís
16th November 2016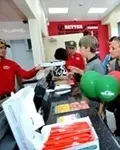 Leading pizza franchise, Papa John's, has announced fast food franchise CPL Food Group, which runs stores in Skegness and Accrington, has opened new Papa John's in Burnley, Lancashire and also Bridlington in Yorkshire. Each new store has recruited around 15 local staff to deliver Papa John's top quality pizza to residents living in the surrounding areas.
CPL Pizza Restaurants which also runs 35 Burger King restaurants, is owned and operated by Lamen Reddy and his business partner and investor Costa Peridakis.

Lamen comments:
"We are excited to be diversifying and adding Papa John's to our portfolio. Without exception, the Papa John's team are passionate about the company and pizza industry and it feels like everyone we work with owns a part of this growing brand. That energy and commitment stands out and sets the company apart.
Initially, we took over the Skegness Papa John's in the summer and retained the existing staff to ensure they kept their jobs," continues Lamen. "The Accrington store followed as a new opening and is already exceeding our expectations in terms of sales, while Burnley and Bridlington have got off to a great start and are looking promising for the future.
We have a further four Papa John's planned in the pipeline and are committed to moving forward. The Company's incentive scheme designed to help with store openings has been helpful. With deals on equipment, discounted fees and assistance with marketing, we believe that Papa John's has all the right ingredients for success!"
Papa John's is one of the largest pizza companies in the world and has opportunities for franchisees throughout the UK. Papa John's which was recently named as UK National Pizza Delivery Chain for the sixth time, is currently running an incentive scheme to help franchisees in the early stages of growing their businesses which includes discounted royalty fees, contribution towards marketing spend plus free equipment for new stores.

Help is provided with location selection and full turn-key opening of stores. As a franchise, the Company supplies all the assistance needed to get your successful Papa John's up and running.
For further information about Papa John's franchise opportunities just click below to request your FREE franchise information pack

Papa John's Franchise News