Revive! Franchise
Revive! Franchise
Vehicle Cosmetic Repair Business

About Revive!:
Established in 2004 Revive! provide a mobile solution repairing cosmetic damage to vehicle paintwork such as bumper scuffs and kerbed alloy wheels.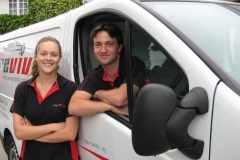 Working from fully equipped mobile workshops Revive!'s highly skilled franchise owners offer a cost effective and convenient alternative to the traditional body shop repair.
This service is often referred to as a SMART Repair (Small to Medium Repair Technique) and has been adopted by all types of vehicle owners including car dealers; fleet managers and the general public – and with over 30 million vehicles on the UK's roads the demand keeps on growing!
Revive! Franchise Owners: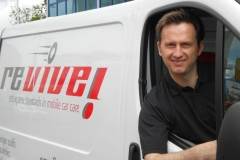 No experience of the automotive refinishing industry is necessary as all new Revive! Franchise owners undertake an intensive five week training programme.
Revive! instead look for ambitious candidates who are destined to become a successful business owner operating in large territories with a lucrative customer base.
New franchise owners go through a thorough selection process and Revive! only award territories to those they believe have the desire and ambition to grow their Vehicle Cosmetic Repair Business to a 3 or 4 van operation over time.
Your investment in Revive!:
The Revive! Franchise investment fee is £23,500 + VAT but with bank support most new Revive! franchise owners begin with between £10,000 and £15,000 of their own money to invest. The franchise fee covers everything required to facilitate a successful business launch.
Full details of the comprehensive Revive! franchise fee package are covered in the franchise prospectus available by clicking the button at the bottom of the page, but key components include:-
Territory & licence fee
Four weeks residential training at the Revive! training academy which is endorsed by the IMI Awards Scheme (Institute of Motor Industries)
A full paint mixing scheme including equipment, paints and other consumables
A one week business launch with a dedicated business mentor
One week mobile training

The specially adapted mobile workshop is usually financed on hire purchase.
The Revive! difference:
Revive! work in partnership with their franchise owners and have built the most credible team of accredited 'Cosmetic Repair Technicians' in the country.
Here's just a taste of what your investment in a Revive! Franchise will provide:-
A TRUSTED BRAND:
Winner of Express Newspapers 'Brand Builder of the year 2013' in the annual BFA Awards.
OUTSTANDING SUPPORT:
Revive!'s award winning support provides a national call centre, an administration team and a national accounts department dedicated to winning national contracts which are distributed across the network.
EXCEPTIONAL TRAINING:
All Revive! partners undertake an intensive four week residential training course at the IMI approved centre following which a week of mobile training is started before launching their business. However the learning does not stop there; continuous and tailored training from alloy wheel programmes to business growth workshops are readily available to all franchisees at any time.

A STRUCTURED BUSINESS LAUNCH:
Included in the Revive! franchisee package is a one week business launch with an experienced member of Revive!'s business development team who will serve as a mentor helping to generate work in your designated territory from day one.
A ROUTE TO ACCREDITATION:
Revive! run the largest team of accredited SMART repairers in the UK providing mobile paint repairs to the automotive sector. They encourage all of their franchisees to follow the path in becoming industry experts through QAA and ATA accreditation systems.
Begin the exciting journey towards becoming your own boss:
Find out about the Revive! Discovery Days if you are serious about growing a business; driven to provide outstanding service and prepared to work hard and grow your Vehicle Cosmetic Repair Business to multi-van operation.
To find out more about the Revive! Franchise and owning your own Vehicle Cosmetic Repair Business. Click the button below now!