Papa John's Franchise
Features
Events
Videos
Resales
Papa Johnís Franchisee Keeps Future in Mind with Great Yarmouth Opening
24th March 2017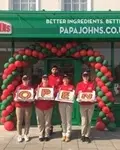 Leading pizza franchise, Papa John's, has announced Taren Shekhon has opened the Company's latest franchised store in the sea-side town of Great Yarmouth.

Taren who joined Papa John's when he was just 21 – two and half years ago – also runs Braintree and Lowestoft. He has employed 25 local staff to manage and deliver Papa John's renown pizza to the people of Great Yarmouth.
Taren Shekhon confirms:
"I first came across Papa John's as a student, studying accounting and finance at Nottingham Trent University. Papa John's concepts of: BETTER INGREDIENTS. BETTER PIZZA. means serving up a top-quality product and one which is incredibly popular. The Company had huge plans to grow in the UK and I felt I could realise my ambitions to run my own business by becoming a franchisee.
I raised the funds to buy my first Papa John's in Braintree with a business loan from HSBC's franchise department plus some private funds. The HSBC team are very easy to deal with as they know the franchise well. However, at the time, due to my age I did need to provide a little more evidence of my commitment than perhaps someone who was more experienced!
My first store with Papa Johns was Braintree which is a strong site where the sales and transactions continue to grow week on week, Then I took over Lowestoft, I have really focused on marketing and, as a result, sales have improved by 50% and I am looking forward for the busy summer period.

The Papa John's franchisee incentive scheme has been helpful with the newest Great Yarmouth opening as I have been given a free oven, help with royalties and marketing. It is an exciting location, particularly with summer around the corner as the population in the area increases dramatically with visiting tourists. I am keeping the future in mind and looking forward to opening more Papa John's stores. My aim is to own and run 10 franchised stores."
Papa John's now has over 350 stores across the UK and more than 5,000 around the world.

Papa John's is one of the largest pizza companies in the world and has opportunities for franchisees throughout the UK. Help is provided with location selection and full turn-key opening of stores. As a franchise, the Company supplies all the assistance needed to get your successful Papa John's up and running.
To find out how to start your own Papa John's franchise just click below to request your FREE franchise information pack

Papa John's Franchise News