Premier Franchise
Premier Win the Franchise Marketing Award for Best PR Campaign
25th October 2017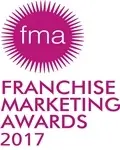 On 13th October 2017, Premier were awarded the Franchise Marketing Award for Best PR Campaign for their efforts with The Golden Mile and data surrounding UK children's inactivity. The official awards ceremony, sponsored by Business Franchise magazine, was held at the National Exhibition Centre (NEC) in Birmingham.
Premier's award-winning campaign used extremely compelling data gathered by The Golden Mile that revealed a large number of UK parents are concerned over their children's inactivity. The study showed that 75% of parents admit their children are less physically active than they were at a similar age, while the same percentage admitted they don't actually know how long their children need to be active each day in order to maintain a healthy lifestyle.
This data all comes in light of studies that reveal this generation of children are believed to be the first to have a shorter lifespan than their parents, due largely in part to sedentary lifestyles.
With the help of former Olympian Dame Kelly Holmes, who was invited to speak about the data and The Golden Mile on the BBC, Sky Sunrise and the Chris Evans Breakfast Show on BBC Radio 2, the campaign reached an incredible audience of more than 50 million viewers and listeners.
In addition to Dame Holmes' appearances, the campaign was picked up by The Daily Mirror and The Sun, plus a number of regional BBC radio stations and beyond. The coverage serves to not only bring awareness to the urgency of combatting UK children's sedentary lifestyles, but to also draw attention to The Golden Mile and how this health initiative can inspire children, parents and participating school staff to engage in physical activity.
Premier was incredibly excited to have run such a successful campaign, and were honoured to have received the award – especially one so prestigious. The Franchise Marketing Awards are considered some of the most highly-respected accolades in the franchise industry, and were judged by an independent panel of market experts.
Find out more about franchising with Premier by clicking below to request your FREE franchise information pack

Premier Franchise News