The Franchise Satisfaction Benchmark
25th February 2020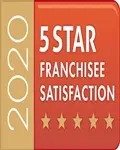 As part of its twenty year birthday activities, a franchise theatre school asked its franchisees for a satisfaction rating and was delighted with the response. In fact, results are up 6% from 2018 and the Dragons' Den backed franchise have received the Continuous Improvement Award as their score has improved for two consecutive surveys.
The Franchise Satisfaction Benchmark is provided by WorkBuzz - a leading independent franchise consultancy that helps reputable franchisors to improve franchise network performance and growth.
Razzamataz Theatre Schools were delighted with its response rate which gave an overall Franchise Satisfaction Benchmark Score of 88%, with many of its broken down results rating much higher. It was also the first franchisor in 2020 to be given the Continuous Improvement Award, resulting in a 5 Star Satisfaction Rating.
For example, Razzamataz scored 100% when asked about products and services, the Razzamataz system scored 96% and the training and support received was given 91%. Together with the results, franchisees provided some anonymous supporting testimonials. "Our Head Office training is very responsive to any new legislation and/or issues that arise."
One area that repeatedly comes up is the flexibility that the Razzamataz franchise offers. "The flexible nature of working hours is very valuable to me." This combined with being part of a network that really makes a difference to young people's lives is something that is important to franchisees: "Being able to give amazing opportunities to my students, building up their confidence, and building a school that takes Performing Arts seriously."
MD and Founder of Razzamataz Denise Hutton-Gosney says:
"After twenty years in business, we don't take for granted how important it is that we listen to our franchisees. We use these surveys to highlight the areas that we are doing well and take on feedback on where we can improve and what the needs of our current franchisees are. We are delighted with the results which shows that our heavy investment into supporting our franchisees is appreciated."
Franchisee satisfaction is a powerful concept in franchising. Positive levels of franchisee satisfaction can contribute to strong network growth and development. On the reverse, poor satisfaction levels have the potential to destroy value and damage a franchise system to its core.
Franchisees are asked to score the franchisor in a number of key areas: Training & Support (Razzamataz were 21% above the industry average), The System (Razzamataz were 14% above the industry average), Culture & Relationships (Razzamataz were 7% above the industry average), Leadership (Razzamataz were 12% above the industry average) and General Satisfaction (Razzamataz were 8% above the industry average).
As well as understanding how Razzamataz is performing through the eyes of its franchisees in these critical areas, it also indicates their level of optimism about the future with 91% of Razzamataz franchisees expecting to see their profitability improve during the next 12 months.
As in every business, there are challenges that Razzamataz are currently addressing by bringing in further marketing experts to look at the best way to market across the UK. Experts include Hannah Power, Personal Branding Specialist, who works with a range of clients including her mum, Penny Power OBE.
Denise adds:
"We understand where the challenges lie and we regularly work with various experts to provide franchisees with the very latest training and advice. As the business continues to grow, we can provide more and more opportunities for franchisees and their students, which helps them to build their own business and supports them to offer exceptional opportunities for young people in their area."
Summing up the survey, one franchisee says: "I'm proud to be a part of Razzamataz."
As a multiple-award-winning franchise, celebrating twenty years in business, Razzamataz franchisees come from all walks of life. They don't need to have experience in performing arts or business because of the contacts and training that they can access through the network. All that is required is a passion for the arts, the willingness to work hard and learn and the enthusiasm to run their own business with the help, support and advice of the Head Office team.
Razzamataz currently have an offer for interest free finance for exceptional candidates for the main Razzamataz franchise and a 50% offer for the Razzamataz Early Years franchise.
If you have the desire needed to run your own theatre school just click below to find out more