Happy Culture Creates Longevity
4th February 2020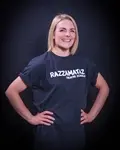 Creative Director and Franchise Support Mentor Charlotte Young
With twenty years of business behind them, much of the success of the Dragons' Den backed theatre school franchise is creating a happy culture among franchisees and also staff.
A study conducted by Columbia University revealed that organisations with a higher company culture enjoyed a decreased turnover rate of just 13.9 per cent, suggesting that such businesses make employees happier and less likely to quit their jobs.
At Razzamataz Theatre School, it is not only franchisees who have been with the company for more than ten years, the Head Office staff have a long history also.
Creative Director and Franchise Support Mentor Charlotte Young started at Razzamataz in 2005, first joining as a dance teacher at three Razzamataz schools and then going on to become a multiple franchise owner. Her next challenge was to join the Head Office team full time where she gets to share her knowledge of the industry with her social media and performing arts skills. Charlotte is a mum to Freddy and has won multiple awards and was recently a finalist for Employee of the Year 2019 at the EWIF Awards.
Charlotte says:
"I just love everything about Razzamataz, the confidence it gives to the children who come to the classes and the opportunities in business for people who love the arts. It is such a fun environment to be part of too. We work with really creative people who all bring something different to their roles so we can continually learn and be inspired by one another. I started as a professional dancer and singer and the fact that I have been able to stay working in an industry that I love is very special."
Charlotte's experiences reflect the findings of another study conducted by the University of Warwick's economics department that showed the difference in productivity between happy and unhappy workers. Those who felt more satisfied with their jobs were 12% more productive, while unhappy workers were 10% less productive.
As Razzamataz celebrates 20 years of business this year, many of the franchise schools are celebrating their own milestones. With more than 600 students, Razzamataz Medway celebrates an incredible ten years, with students going on to perform professionally on the West End stage. Other schools are also celebrating five, ten, 12 and almost 15 years of business.
MD and Founder of Razzamataz Denise Hutton-Gosney says:
"We are so fortunate to be able to work in an industry that we are passionate about. Inspiring young people through performing arts is a privilege and through the experience of running theatre schools for twenty years, we can pass this knowledge on to others who want to open schools in their local communities. This year we are also launching Team Celebration Days, a series of roadshows where we meet the teachers and staff in our schools across the UK to show them ways they can progress their careers with Razzamataz."
Loyalty to the Razzamataz brand has many perks with numerous incentives offered to franchisees and staff. These include luxury overnight spa days at Stobo Castle, scrumptious Christmas hampers from Harvey Nichols, shopping trips and champagne high teas.
Denise adds:
"It is important that we create a culture of positivity and respect. This has rewarded our company with very loyal staff and franchisees and created an environment where we can be great role models for our students."
Join the Razzamataz network
Do you have the desire needed to run your own theatre school? Speak to their friendly Head Office staff and find out how you can transfer your skills. To celebrate 20 years in business, they currently have a 50% off the franchise fee, first term management fee free PLUS they pay your VAT.
Just click below to find out more