Multi-Award Winning Young Tech Entrepreneur to Work with Franchise Network
12th September 2019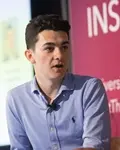 Described by The Sunday Times as one of 'the most influential teenagers on the planet,' Ben Towers is delighted to be working with Dragons' Den backed Razzamataz to inspire more entrepreneurs.
Being just 21 years old, Ben has worked with global giants such as IHG, Virgin and national governments in the UK and New Zealand as well as giving support to the Duke of York and the vital 'iDEA' digital entrepreneurship awards. His passion lies in the application of technology for good for young people and he is currently working on a platform to support better health choices for the digital generation.
As a keynote speaker in corporate events through to large scale conferences hosted by corporations such as Right Move and the Volkswagen Group, Ben is able to inspire business to think differently. With his desire to make the future better for the digital generation, he is the perfect fit for Razzamataz.
Denise Hutton-Gosney, MD and Founder of Razzamataz, says:

"Ben has worked with some incredible organisations but remains very true to what he believes in, which is very much aligned to our core ethos as a theatre school business. Young people today face unique challenges and we want to ensure that the Principals of our schools can meet these challenges in the most positive ways. As a business, Ben will teach us about our own growth and how to use digital technology to really connect with our customers."
By being part of the Razzamataz network, all of the franchisees are regularly invited to take part in training sessions and webinars, totally free of charge, to learn new skills and meet inspiring individuals.
Ben says:
"I am extremely excited to be working with the Razzamataz franchisees to provide support in their growth to help more young people across the UK to develop their confidence and performance skills,"
As one of the most recognised Dragons' Den winners, Denise is always looking how to inspire more entrepreneurs, especially young people who perhaps haven't thought about going into business for themselves.
Denise continues:
"Ben is a brilliant example of someone who has succeeded in business at a young age. But not all young people have the confidence and skill set that they need when starting out and many can feel overwhelmed with what it takes to make it. That is where a franchise really comes into its own. We give people the support, training and guidance throughout their business journey with us so they can be successful with very little experience."
Take Nick Furlong and Gemma Hextall who are the Principals of Razzamataz Sutton Coldfield. Nick was 22 and Gemma 21 when they bought re-sale franchise Razzamataz Sutton Coldfield in September 2015. They were both in the final year of study at Birmingham School of Acting when the opportunity arose. They took over the school with 38 students and now have more than 300 students.
Nick says:
"Franchising opened our eyes to what can be achieved. We met other young franchisees so there was a very clear route to success. We have support mentors that keep reminding you that you are on the right track and the whole system is there to take away any doubts in your mind. Without franchising, I think we would have got a few weeks in and just been overwhelmed and thought that we were too young, and it wasn't realistic for us."
Razzamatazz are particularly keen to recruit in Scotland; specifically, Dundee and Aberdeen and Wales; specifically, in Cardiff and Swansea and we have resale opportunities in Wimbledon and Hackney.
For those looking for a part-time enterprise, the Early Years Franchise has been created to cater to the demand for people wanting to work in the children's performing arts industry but who do not have the relevant experience to launch a full Razzamataz Theatre School.
Contact Razzamataz NOW for a fabulous 50% off the franchise fee, first term management fee free PLUS they pay your VAT. Click below to find out more