Career Expansion with a Franchise
9th July 2019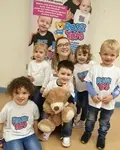 Alanna, Principal of Early Years Razzamataz Ballymena with some of her students
Taking your business a step further can be daunting. You may have years of experience running a dance school or drama classes for children but are unsure of how to keep moving forwards.

Expansion is not just a worthy goal to have, it is often a necessity for your business's survival. If you own a dance school and are looking to add on a strong brand that offers musical theatre to increase recruitment and retention, there is a Dragons' Den backed business that may provide the solution you are looking for.
Finding new customers may be the obvious answer to growth but as a small business owner, there is only so many ways that you can generate new customers with the resources that you have.
This is where looking at your business from a different perspective may provide the answers. There is a growing trend for people who already own a business to invest in a like-minded franchise and take advantage of the benefits of being a franchisee.
Deborah Laws is an experienced dance teacher, lecturer, ISTD examiner and is the Principal of franchise Razzamataz Plymouth alongside her own successful dance school. Deborah stared dancing at the age of two and was on stage taking part in competitions at a very young age. She went on to study at the prestigious Laine Theatre Arts where she was awarded the 'most promising teacher'. At the age of 24, she started her own dance school and has since gone on to achieve the highest qualification in the ISTD. Deborah has just recently celebrated ten years as a Razzamataz Principal.
"I liked the fact I could become part of a brand and felt this would help to make me stand out from all the other dance schools running their own musical theatre classes," says Deborah. The benefits have been multiple as Deborah adds: "The additional business support, the strong affiliations and the ability to charge higher prices are thanks to the Razzamataz brand. Being part of a franchise has kept me on track with current trends and I have learnt from others in the network too."
Razzamataz has been successfully franchising since 2006. To complement the growth of the main theatre school franchise, the company launched Razzamataz Early Years (REY), which has recently turned one.
Razzamataz Early Years franchise was launched with the youngest children in mind and consist of a new offering called Razz Tiny Tots, which is a class especially designed for babies to they start walking and their parent/carers. It also includes the established products of Razz Tots for children walking to age three and Razz Minis for those age four to six.
The first Early Years was opened in Northern Ireland and the popularity has spread and now more Principals are opening classes including the Early Years franchises in Dumfries and Weymouth and a new franchise about to launch in County Tyrone, Northern Ireland.
One of the main benefits in investing in the REY licence is the association with a strong Dragons' Den backed brand that continues to receive national recognition both in the press and through winning awards with the British Franchise Association among others.
Another one of the benefits for Early Years franchisees are that the structure of the classes together with the support from Head Office means that no previous performing arts experience is necessary. Everything is provided for you from the themes of each class through to detailed lesson plans. Furthermore, without an end of year large production show, the franchise is suitable for people without a performing arts background.
"It fits in perfectly with my current life and also my plans for the future," says Alanna Cassidy, Principal of Early Years Razzamataz Ballymena. "I have my evenings free to spend with my family and friends. Having half-terms and school holidays free is also a big bonus."
Razzamataz are particularly keen to recruit in Scotland; specifically, Dundee and Aberdeen and Wales; specifically, in Cardiff and Swansea and we have resale opportunities in Wimbledon, Hackney and Hampstead.
Contact NOW for a fabulous 50% off the franchise fee, first term management fee free PLUS Razzamataz pay your VAT. Just quote PR2020. Due to demand, more training is planned for 2019 and 2020.
To find out more about joining the team of Principals in time for the 2020 conference, where Razzamataz celebrates turning 20 just click below