Meet The New Razzamataz Franchisees
18th June 2019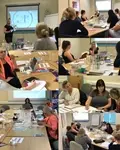 Although it has almost been 20 years since it began and almost 13 since the owner stepped into BBC's Dragons' Den, the new recruits joining the theatre school franchise still remember the famous episode.
The Razzamataz Head Office has been buzzing with franchise training and welcomed new recruits as well as renewals from those that had been in the network for five and ten years.
Buying a franchise continues to be a good investment with the British Franchise Association reporting that 90% of franchisees have been profitable every year for the past 20 years.
During the week-long training session, the new franchisees at Razzamataz Theatre Schools were introduced to a range of experts to help with every element of running a performing arts school.
As part of Razzamataz's commitment to continue to support franchisees, every Principal is invited back to attend the training, completely free of charge. Georgia Davies, Principal of Razzamataz Bristol North explains:
"I am just about to complete my first year as a Principal and have just attended franchisee training again. I am glad I did, there is such a lot of information to retain and it is great as a refresher. I've picked up lots of valuable information to help grow the business."
Even the most experience Principals find value in returning to training as Deborah Laws, Principal at Razzamataz Plymouth for ten years says:
"Loved working with my business besties on planning for growth. Thank you to everyone at Head Office for these awesome opportunities."
Meet the new franchisees
Tara Mc Guone, Razzamataz Early Years Tyrone

Tara Mc Guone studied drama to Degree level and has been working with young people and adults in community theatre for over 13 years. Tara has directed, produced, taught and choreographed a variety of theatre over the years and her passion is working with children and young people. She has relished seeing first-hand the positive effects performance based activities and learning has and the research showing how receptive babies' brains are to music, movement and touch from birth. This research has made starting the Early Years journey even more exciting. Tara is a new mother and is very excited to join Razzamataz and their 20 years' experience to bring a fresh approach and professional service to Tyrone & Fermanagh.
Caroline Kavanagh, Razzamataz Horsham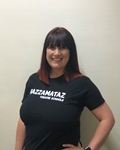 Caroline's love of performing began at the age of three. She completed her professional training at Mountview Academy of Performing Arts in London achieving a BA (hons) in Musical Theatre. She then went on to perform in various musicals and has been lucky enough to perform twice at the prestigious Royal Albert Hall. A change in career saw Caroline retrain as a nurse and health visitor, meaning that Caroline has a great understanding of child development and how dance, drama and singing can help children gain confidence and reduce stress levels. Caroline believes that the arts can have a huge positive impact on children's physical and mental wellbeing. She wants children to come and make new friends, learn new skills and above all have lots of fun. Caroline is also a mum of three.
Razzamataz are particularly keen to recruit in Scotland; specifically Dundee & Aberdeen and Wales; specifically in Cardiff & Swansea and have resale opportunities in Wimbledon & Hampstead.
To find out more about joining the team of Principals just click below