Twenty Years of Being Outstanding
8th June 2019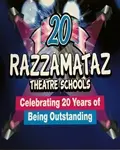 At the turn of the millennium, a former performer struck upon an idea to share her passion for her industry. Denise Hutton-Gosney's life had been changed through her love for dance and she wanted to inspire this purpose in others.
Growing up in modest circumstances and being the youngest of four children, Denise found that the arts gave her the confidence she was lacking and led to an exciting career that saw her perform all over the world including the Millennium Dome in London.
In 2000, Denise retired from professional dancing and hit upon an idea to create a school that would teach dance as well as singing and drama, both areas where Denise felt that she lacked experience.
Denise says:
"Razzamataz was created with a simple dream, to make performing arts available to all young people no matter their background or circumstances. We want to give children everywhere the chance to attend classes taught by experienced performers, who can give them the perfect introduction to the most wonderful industry in the world."
In 2020, Razzamataz will celebrate 20 years of business. In that time, the franchise theatre school has seen outstanding results from students and almost 50 schools opening across the UK.
Past and present students are working professionally on the West End stage in shows including, Matilda, Hamilton, School of Rock and many more. Other students are starring in TV shows, films and popular radio channels.
Many of these students benefitted from the fundraising efforts of Denise and her Principals. Through Razzamataz's own charity Future Fund and the thousands of pounds of scholarships in association with The Stage newspaper, becoming a Razzamataz student has really been life changing for many.
The proven success of the Razzamataz brand has enabled franchisees from many walks of life to run their own successful theatre schools on their own terms. From young entrepreneurs, parents who want to be there at the school gates and those who want a complete career change, during the 20 years, there have been so many business success stories.
Denise adds:
"What makes me really proud is to see the accomplishments of our franchisees, who are succeeding beyond our own forecasts. Recently, one of our franchisees was awarded two bfa Awards, beating competition from major franchise businesses such as Costa. We have lots of franchisees in our network who are working mums like myself. To have created a business that our franchisees are passionate about and that can work around their commitments to their families is something that is a huge professional achievement for me. Seeing others succeed and finding a career that gives them the lifestyle that they want on their terms, is hugely rewarding."

A big part of the success of Razzamataz is the brand partnerships that they have forged. This includes household names such as Disney, Universal Pictures, Warner Bros. and 20th Century Fox to name but a few.
All of this and much more will be celebrated at the company's annual conference that will be held in Millbank London on the 20 January 2020. #20yearsofbeingoutstanding will be a chance for past and present students to share their stories and franchisees to acknowledge their own success and to look back on the early days. From an early successful appearance on BBC's Dragons' Den to announcing new incentives for 2020, the conference and awards' evening will be a wonderful opportunity to reminisce and get excited for the future.
To find out more about joining the team of Principals in time for the 2020 conference and the opportunities to take over existing schools in Hackney and Reading and the potential to purchase our Wimbledon school and territory just click below