Razzamataz Theatre Schools Franchise
New Year and New Approach for Razzamataz
5th January 2017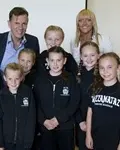 It's been 10 years since Denise appeared on Dragons' Den and Duncan Bannatye became an investor
In the ten years since Razzamataz Theatre Schools successfully appeared on BBCs Dragons' Den, the world of franchising has evolved to appeal to a wider range of people.
To celebrate the continued success of the franchise business and remaining in the top five most memorable entrepreneurs on the BBC show, Razzamataz is offering a New Year's financial incentive to join the theatre school network.
For the first three months of 2017 only, Razzamataz will be offering an enticing package that will give more people the opportunity of owning their own part-time theatre school. After a successful interview, candidates will be able to become Razzamataz franchisees with a new financial package, equating to a saving of around £6,000. Razzamataz will pay the VAT and the first term management fee.
Furthermore, unlike many other theatre school franchises, Razzamataz will allow franchisees to retain 90% of their turnover, proving that as a business, the franchisor and franchisee are committed to working together and are in it for the long haul.

Denise Hutton-Gosney, MD and Founder of Razzamataz, explains:
"In the 11 years since I have been franchising, I have recognised that great school Principals come from a wide range of backgrounds and bring with them various life skills that can help them succeed in business with our support. We have taken people with no business skills but who are willing to learn and invest their time and energy into their school and we are delighted to see them now succeed. We have also witnessed amazing success; one of our longest franchisees now has more than 400 students in her school."
Within the Razzamataz network, there are many parents (and a grandparent) with young children, former teachers, performers who combine working professionally with being a school Principal and young graduates who are straight out of college.
Denise adds:
"Experience has shown me that successful Principals come in all ages and it is very much down to us creating long-term successful relationships. We have already secured two very high profile partnerships for 2017; Eurocamp and Disneyland Paris, so this is a great time to be joining us."
2017 Offer
The package to celebrate 11 years of successful franchising in 2017 will consist of a franchise fee of £7,995 for January, February and March only. Razzamataz will pay the first month management fee as well as the VAT equating to a saving of almost £6,000. T&Cs apply.
Razzamataz are also delighted to offer their own finance for the franchise fee (after a 30% deposit is payable) for excellent candidates who meet the criteria, including a credit check.
If you want to find out more about becoming a franchisee of your own part-time Razzamataz Theatre School just click below to request your FREE franchise information pack

Razzamataz Theatre Schools Franchise News