Razzamataz Theatre Schools Franchise
The benefits of buying a re-sale Razzamataz franchise
25th October 2016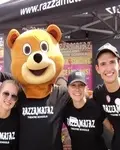 Tonbridge Razz Ted and Friends at Kent County Show
A franchise business is popular both with experienced business entrepreneurs and those with little business knowledge. For some, the security of buying an existing franchise business is even more appealing with the benefits being that the ground work has already been put in place.
Razzamataz Theatre School is a franchise business that shot to prominence in 2007 after an investment from Duncan Bannantyne on BBC's Dragons' Den. There are more than 40 part-time theatre schools up and down the country with more opening each year. Occasionally, there is the opportunity to purchase an established business, as is the case with award-winning Razzamataz Tonbridge, which launched in 2013.
Principal Dave Mac is a retired policeman who launched the performing arts school and made a huge impression in his local community. Due to personal reasons, he is now looking to sell:
"With the right support, I have been able to start up and run a successful business in a very short space of time. The joy of bringing singing, dance and drama lessons to local children and young people and the immense pride you feel when they perform in public is wonderful. I have learnt that with great customer service, parents and guardians invest their time, energy and even friendship into you and the school. I am very proud of what my team has achieved in that very short space of time and although it is tinged with a sadness I have learned that handing over the reigns at this time is the right thing for the students, parents and guardians as well as the wonderful team."
Whether you are buying a new or an existing theatre school franchise, the level of information and support you will receive is very high making it a good, solid investment.

Dave says:
"This is a fantastic opportunity for one lucky person or a partnership to take over an existing, acclaimed school of almost 100 students with more joining all of the time. The potential for expansion and utilisation of other avenues of revenue is substantial."
Dave has been very proactive in his local community and has built up an extensive network of contacts which he will share with the new owner. These include editors and reporters from the local press, Radio Stations, Rotary Club, Chamber of Commerce, Town Centre Team, Council members, other children's and youth organisations as well as other business owners.
Dave continues:
"The sky is literally the limit for whoever takes over Razzamataz Tonbridge. They will step right into a vibrant, friendly, school and one look at our Facebook page shows the fun, happy school that new students want to be a part of and why parents love their children to be with us. In simple economic terms, the school is already in profit and there are a number of profitable revenue streams still to be explored."
Dave believes that part of the success of his business is down to being part of a franchise network as he explains:
"You have the freedom of running your own business while having the resources of a highly successful organisation right at your fingertips. The large number of students at many Razzamataz Theatre Schools, one of my neighbours has in excess of 300, is testament to Duncan Bannatyne's faith in the Razzamataz ethos and product when he became an investor on BBC's Dragons Den. You get ongoing support and information for everything from advertising to lucrative Summer and Easter schools, ongoing training, information and brand awareness as well as the friendship and support of other Franchisees in the same business as yourself."
To enquire more about the Razzamataz Theatre Schools franchise or becoming the new owner at Razzamataz Tonbridge just click below to request your FREE franchise information pack

Razzamataz Theatre Schools Franchise News