Passion For Cars And Friendship Fuels Cambridge Vehicle Repair Business Success
27th July 2023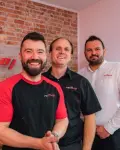 Revive! East Anglia, owned by three friends with a passion for cars, has been recognised as one of the best small businesses in Cambridgeshire


Owing to a new customer-centric approach to car repairs, and the launch of a 6,000 square foot rapid repair centre, the friends have scaled the business to become the largest franchise in Revive! Auto Innovation's 51-branch UK-wide network


Citing their enthusiasm for cars, the friends have every intention of remaining 'on the tools' as the business grows further


The winners of the SME Cambridgeshire Business Awards 2023 will be announced at a ceremony staged at the Cambridge Country Club on 28 September 2023
A Cambridge-based vehicle repair franchise, headed up by three car enthusiast friends, has been lauded as one of the best small businesses in Cambridgeshire.
Revive! East Anglia, which is co-owned by Nathan Holmes, Andy Blackhurst and Adam Holmes (of no relation to Nathan), has reached the SME Cambridgeshire Business Awards Final 2023, in the highly-competitive Business of the Year category. The winners are set to be announced at a prestigious ceremony at the Cambridge Country Club on 28 September 2023.
The judges were impressed by the fact that Revive! East Anglia boasts the largest turnover (£1.2 million in 2022), the most employees (20) and the largest territory among all of Revive!'s UK-wide 50+ strong franchise network.
The business was established by Nathan in 2007, under the name Revive! Cambridge, after he wanted to pursue a career which allowed him to indulge in one of his passions – cars. One of Nathan's first decisions was to hire his friend, Andy, as a technician. This proved to be a shrewd decision as Andy was instrumental in rolling out a unique business offering, which saw one of the team's technicians travel to the customer's home or place of work to conduct bodywork and wheel repairs.
This business model was so successful that the team had the opportunity to grow the business and form Revive! East Anglia, by purchasing the franchise adjacent to Cambridge. It was then that Nathan sought the help of his close friend, Adam, in realising the firm's ambitious expansion plans.
Adam had recently been made redundant from a high-flying corporate job with an energy supplier, and he had no intention of returning to the corporate world when he learned more about Nathan and Andy's goals, and was offered the opportunity to work with cars and run a business.
The business then grew into a family affair as the team welcomed Adam's and Nathan's respective partners, Gemma and Emma, to also work on the business. Meanwhile, Emma's father and Nathan's father-in-law, Ashley Hill, who works as a technician. This family-oriented environment has contributed towards a friendly and customer-centric approach, which is reflected in the businesses' TrustPilot reviews, with 98 per cent of testimonials rated as 5-star (very good) or 4-star (good).
The team's hard work culminated in the business moving into a 6,000 square foot rapid repair centre situated at Glenmore Business Park in Waterbeach in 2022, enabling the team to carry out larger jobs, as well as still complete repairs out of one of the company's fleet of 11 vans.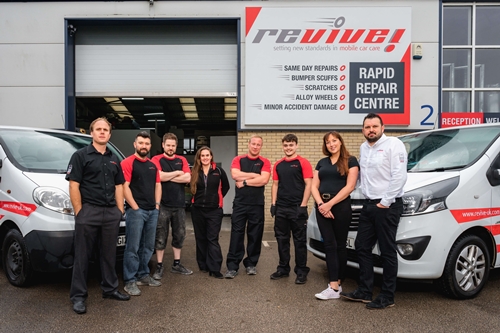 Nathan commented: "Since launching in 2007, it's been a long and hard journey, but the fact that I have done it alongside two close friends all while working on a shared passion has made it worthwhile. There are so many forward-thinking small businesses in our region, so to be shortlisted for this award is a testament to our team's hard work over the years, and the outstanding customer service levels we provide."
Andy added: "Revive! East Anglia has grown from strength to strength, and it has been a joy to do it alongside Nathan and Adam. We have a shared interest in cars, and so to work with them on our customer's vehicles on a daily basis, as well as help the people of Cambridgeshire, has been a real pleasure."
And despite being owners of the firm, the trio of friends still have every intention of remaining 'on the tools' by continuing to repair vehicles themselves.
Adam concluded: "Nathan, Andy and I do not envisage ourselves putting our feet up and working behind the desk - it simply is not in our nature. We love working on cars and meeting people in the East Anglia region. It's what motivates us to get up each day and grow the business. The three of us are eager to grow the business much further in the coming years with multiple repair centres one day, and we cannot wait to learn about the judging panel's final decision on 28 September."
To learn more about Revive! Franchise opportunities just click below