Northampton And Gloucester Vehicle Repair Franchises Join Growing List Of Revive! Award Nominees
1st June 2023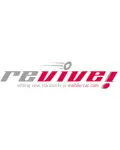 Revive! franchises, Northampton and Gloucester, have been shortlisted for coveted regional business awards


This means an impressive total of five Revive! franchises have been nominated for awards this year alone


Judges were impressed with the owner of Revive! Northampton, Iain Wallis', remarkable career path, which has seen him rise from vehicle technician to franchise owner over his 17-year career


Meanwhile, owners of Revive! Gloucester, married couple Jai and Reena Patel, caught the eye of judges for leading the company to milestone revenues in record time after launching their business in 2021
Two more branches of Revive! Auto Innovations, the SMART vehicle repair specialists, have joined the franchise network's growing catalogue of regional business award successes.
The Northampton and the Gloucester Revive! franchises have respectively secured award nominations in the Small Business of the Year category at the SME Northamptonshire Business Awards and the Consumer Services Start-Up at the South-West Start-Up Awards.
This means that an impressive total of five Revive! franchises located across the UK, from Aberdeen in Scotland to Portsmouth on the south-coast of England, have been selected as award finalists, this year alone.
Revive! Northampton's award success has come after the business, owned by Iain Wallis, achieved yearly revenue increases of up to 75 per cent, enabling the firm to move into a new 2,500 square foot rapid repair centre and subsequently expand its service-offering. Iain believes this move will help the business realise its ambitions of turning over £1 million by the end of this year.
Iain's journey to becoming a franchise owner began back in 2006, when his rugby teammate, who was also managing director and founder at Revive!, recommended that he join the then newly-launched business - an industry which, at the time, was very much in its infancy.
The opportunity excited Iain to tackle the challenge and he went on to have a successful decade-long career as a technician before eventually seizing the opportunity to take the reins of the franchise in 2017.
Iain commented: "When I cast my mind back to those initial conversations I had with Mark in the rugby clubhouse some 17 years ago, never did I think that I would be heading up what will soon be a £1 million business. Our award nomination is a testament to the work of our team of eight technicians, who have worked tirelessly to service the people of Northampton's vehicles to the highest possible standard."
Meanwhile, Revive! Gloucester, which is led by husband-and-wife owners Jai and Reena Patel and was launched in 2021, attracted the attention of the Start-Up Business awards for the firm's impressive financial growth in just under two years since launch.
Indeed, the firm achieved a staggering 231 per cent growth in revenue in its second year of trading, and is the fastest growing business in Revive!'s franchise network of 50+ branches to achieve an annual turnover of £240,000.
And this is not the first time Jai and Reena have been shortlisted for an award, having won the 'Best Newcomer' accolade at Revive!'s 2021 annual conference, a prize given to new franchisees who have achieved rapid financial growth and excellent business practice within the first year of trading.
Jai said: "There are so many excellent start-ups in the Gloucestershire area, so to be nominated for this award is a real honour. To achieve this feat alongside my wife Reena has made it all the more special, even if it can be challenging to run a business with your partner sometimes!"
The South-West Start-Up Business Awards winners will be announced at a ceremony held at the Propyard in Bristol on 15 June, while The SME Northamptonshire Business Awards will be staged at Mercure Daventry Court Hotel on the same day.
To learn more about Revive! Franchise opportunities just click below
Why

Choose Us

There's more demand than supply!

Build an asset to sell in the future

Simple-to-operate business mode
Related

Franchise Categories
Related

Franchise Types