Two's Company for Signs Express Leicester and Loughborough
7th May 2019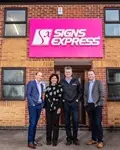 Left to Right; Aaron Davis (Network Development Director), Val Duggan (Owner), Martin Duggan (Owner) & Jonathan Bean (Managing Director)
Starting a new business is never without its risks, however, through careful planning and diligence on behalf of the franchisor, the Signs Express business model is continuing to provide a stable package for new and already established centres.
Therefore, it is no surprise that Signs Express is continuing to grow its network of over 65 centres with the addition of a centre in Leicester and Loughborough which is now open under the ownership and guidance of husband and wife franchisees Martin and Val Duggan.
Martin Duggan commented on the decision to move into the signage franchise market:
"We'd been thinking for many years of running our own business and working together in the B2B sector, as we both have a commercial background. Somehow, someway we had to look for something that was going to fit both of us and, thankfully, I think we've made the best choice possible in the sense that we can both bring something to the business."
Martin has over 20 years of sales leadership experience working closely with world class premium consumer brands on a national & international scale. Martin is no stranger to hitting the ground running and developing and implementing business strategies and will be an asset to the largest signs and graphics company in the UK.
Val has complimenting skills to bring to the Signs Express network from her years as a commercially astute buyer where she sourced high value commodities from the UK and global suppliers before staying at home to help raise their family.
Val continued to explain:
"A Signs Express franchise stood out from the start. From the Discovery Day onwards, we have only been impressed with the level of expertise, support and training from the Signs Express Support Centre. We benefit daily from their 30 years' experience, knowledge, support team and most importantly, their reputation."
With the way the world's economy has evolved, a franchise has become a significantly more appealing prospect than setting up an independent business.
The couple confirmed their reasons for choosing Signs Express as their next business venture:
"Before taking the plunge and choosing a Greenfield site, we had the opportunity to visit other franchisee centres. It was great to hear such positive comments from each of the centre owners and left us in no doubt that Signs Express was for us. Although we are all independently owned, it feels that we are part of something much bigger and have been made welcome by the Group."
Jonathan Bean, Managing Director of Signs Express is delighted by the addition of the couple Martin and Val joining the ever-expanding network. Jon stated:
"Martin and Val both have an impressive mix of professional & personal experiences making them passionate about putting their customers' needs first. I know they are both excited at the prospect of getting submerged into local businesses in and around Leicester & Loughborough. We are thrilled to welcome them both into our network and are looking forward to working closely with them over the coming months."
Martin and Val confirmed:
"Signage has become such an integral part of our everyday lives and there is enormous potential for growth. We are able to service almost any signage requirement, providing a fast, reliable and high-quality comprehensive service. Signs Express is such a well-known and respected company, I am very excited about the future."
The Duggan's have also benefitted from the unique offering Signs Express have for all brand-new centres by investing £30k into the business. But reinvesting their entire franchise fee and adding further investment, Signs Express help new franchisees hit the ground running from day one!
If you are looking to be a part of a diverse and profitable industry contact Signs Express Franchise by clicking below