This is still a great time to talk to MagiKats
Just about a month ago, when lockdown was announced, we had to think fast. As a tutoring service that prides itself on the high quality tuition offered in its workshops, the big question was, "How can these continue in a virtual world?" Well, the good news is they can continue really well!
Here's what some parents and children had to say about their recent workshop experiences, from centres across the UK.
Sam told us, "It is easy to follow on the computer and makes it a fun way to learn!" His mum added, "MagiKats Online has ensured that Sam has the tutor support he needs while home schooling which is a massive help to us, giving us the confidence that he is continuing to improve his maths week on week!"
At a time when nobody knows when schools will return and home-schooling is one of the biggest challenges facing many households, we are pleased to be able to provide additional support through our bespoke learning packages.
Eleanor's mum, Louise, told us that "having the online sessions has maintained some normality during this unusual time. The tutors keep them focused and Eleanor looks forward to logging on each week."
Eleanor added that "I think it's good because I can keep on top of my work properly. I enjoy it, I'm not alone and have the support I need."
At MagiKats, we have always prided ourselves in the level of support our Principals and tutors offer, which goes beyond simply supporting the subject by working on study skills, thinking skills and problem solving skills. Even though it's a tough challenge to provide this level of support across the internet, each tutor has worked really hard to still go that extra mile.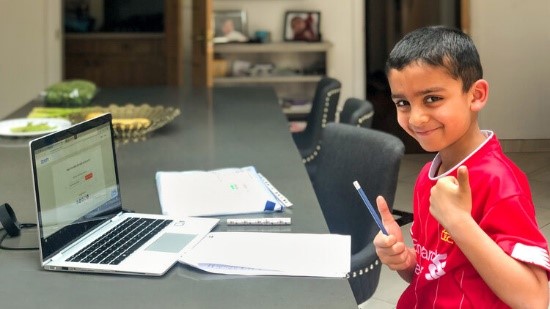 It's great to see their efforts are paying off! Rachna also commented that "Akshay says he likes the online workshops because even though he is at home he still has a chance to see the tutors and the other children and speak to them when he is working."
We think that the feedback from Rachna really sums things up beautifully. It has been a voyage of discovery, both for us at MagiKats and for all our parents and students. However, by working hard and fast, and with the willingness of our families to give it a try, we have been able to continue offering the MagiKats programme, despite the circumstances.
As we begin to look towards the next few months, there is still no certainty. What we do know, however, is that we can continue with MagiKats online workshops and offline study packs for the foreseeable future. Once workshops can resume, we will be delighted to welcome students old and new back to them, but until then, we feel we can provide our service and continue to support all our families in their English and maths.
So, for those people looking to make a career change and start their own tuition centre, this is still a great time to talk to MagiKats. MagiKats have a Q&A Facebook group you can join as well as running prospective franchisee digital meetings so that you can research and find out more about the business while we are still in lockdown and beyond.
Find out more about the MagiKats Franchise opportunity and running your own Tution Centre. Click below now!
What

Our Franchisees Say

I only have to work approximately 20 hours a week with my centre and I'm earning a great full-time salary. The MagiKats HQ staff are really active and always ready to help, motivate and support you when required. That's all you need to be honest.Iftikhar Hussain, MagiKats Franchisee in Edinburgh

As an ex-teacher, I find the MagiKats work comprehensive, written to a good standard and accessible to the students.Julie Sleightholme, MagiKats Franchisee

Being a MagiKats franchisee has completely changed my life - for the better! I now have plenty of time for my family and friends, whereas before I used to be rushing from home to work. Life is 100% more enjoyable nowadays!Stefanie Kosky, MagiKats Franchisee
Why

Choose Us

Enjoy a great work life balance.

Enjoy the fun and challenge of running your own profitable business with all the hard work involved in setting it up done for you.

Enjoy the safety and reassurance of having well organised business materials, advice and training behind you, as well as the support of people who care about your success.
Related

Franchise Categories
Related

Franchise Types