Glenn Bowker lands on his feet with Screen Rescue Birmingham
Jaime Hilario, founder, and franchisor of Screen Rescue is delighted to announce the launch of former aviation engineer, Glen Bowker who is the latest owner operator franchisee to join this award-winning Commercial Windscreen Repairs B2B growing franchise network.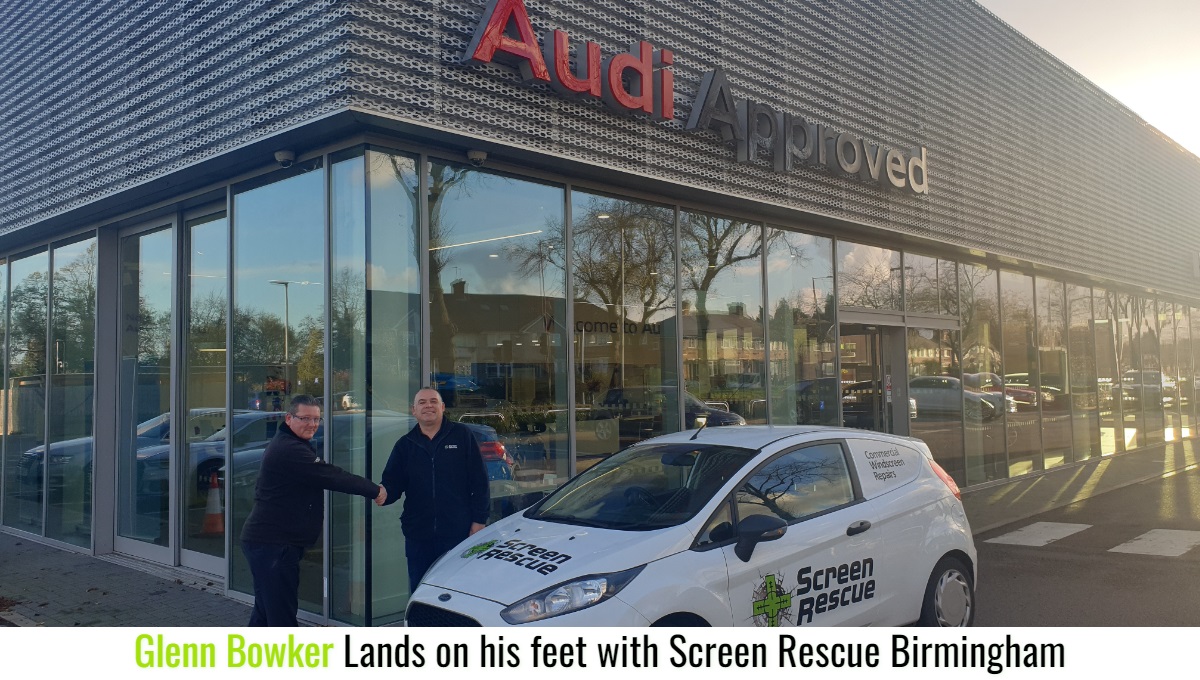 We catch up with Glenn to chat about his route to becoming a Screen Rescue franchisee.
Q1: What is your business background?
I have an applied chemistry degree and a 25-year business background in technical sales and marketing management, the last 10+ years of which have been spent in the aviation maintenance sector. I feel this gives me a solid background in terms of the technical requirements for repairing a wide range of windscreen damages and also in the determination, persistence and tenacity required to generate the new business and client numbers that will be required to make the business successful.
Q2: What made you decide to run your own business?
Following a period of career uncertainty caused by the global impact on the aviation industry from COVID-19 it was time to make a final decision on where my future lay. After deciding that I had no desire to return to my previous background in the corporate sales world, running my own business was a great option, assuming I could find a corporate business that fitted my skillset.
Q3: Given the current uncertainty in world economics, why now?
Following detailed due diligence and my own market research, I felt that the market for commercial windscreen and glass repairs within the Birmingham postcode area was sizeable, somewhat protected due to its commercial nature and should be able to ride out any short-term national or global economic instability.
Q4: Why did you choose a Screen Rescue franchise?
I was looking for a van-based franchise and reading about Screen Rescue's market niche pricked my interest. I then conducted some good old fashioned market research and talked to key decision makers in the sector and discovered that the market for these services within the Birmingham postcode area was sizeable and not necessarily well serviced between the national competitors and the local man in a van provider. Then, when I met both franchisors at their Cambridge Open Day, this reinforced my decision.
Q5: How have your family supported you in this decision?
My partner is naturally a more cautious person than I, so did have some reservations of me moving from a solid salary to running my own business. That said, she does see that the Screen Rescue franchise will give us the opportunity we were seeking to gain financial security and independence, plus a better work life balance in the mid to long-term.
Q6: What sort of assistance have the franchisors provided in the start-up process?
They were there every step of the way to support me in everything from helping me write the business plan, to conducting market research and sourcing the finance required. I could not have asked for more professional help and support.
Q7: How easy is it to contact the franchisors?
Very Easy. They are always available on the telephone and respond to emails/messages very quickly.
Q8: What skills and attributes do you think you need to make a good Screen Rescue franchisee?
I think you need to be friendly and open to attract and retain clients, but you also need to be tenacious, persistent and be able to accept rejection as selling and delivering any service in this day and age can be challenging.
Q9: Why did you choose to invest in a franchise business and not start-up on your own?
Being realistic, any new business, each day, week and month will provide you with lots of ups and downs to negotiate and learn from. To me, investing in a successful franchise means you have the support and know-how from franchisors who have tried, tested, and perfected the business model and this makes it a significantly lower risk investment than attempting to go it alone.
Q10: How will you maintain the quality of your own client and (their) customer services?
I think this is a very simple and relatively old-fashioned process even in this modern world. Work hard, go the extra mile, treat clients, their customers and other stakeholders with respect. Give a quality repair service but most importantly deliver on your promises to the client first time and every time.
Q11: Where do you see your business 6 months/ 12 months from now?
Within 6 months I would like to see a steady cashflow coming in from regular clients and by 12 months it would be nice to set my sights on the assignment of a 2nd van within the territory.
Q12: What milestones do you hope to achieve first?
This week, signing up my first clients will of course be a big relief, and from there it will be about ensuring I quickly build a regular stable of clients, which allow the business to pay for itself while still allowing me more time to develop a larger and more diverse customer base.
Q13: What are your family goals?
To achieve financial security so that I can afford a few of the nicer things in life for my partner and kids, and to be able to get a good work life balance, which allows me to attend things such as our children's events, which I often have had to miss in the past.
Q14: You've got a solid business background, who is your business mentor in life?
I don't think I have a specific mentor. I've just tried to take the best traits from people I have worked with over the years and made a conscious effort to ensure I don't pick up any of the less desirable traits I have witnessed.
Q15: If you could speak to the 25-year-old Glenn, what advice would you now give him?
I'd say, have a little more patience, play workplace politics more intelligently and don't so overtly expect others to have the same level of intensity and energy that I deliver myself!
Find out more about how a Screen Rescue Franchise can help you gain financial security and independence, plus a better work life balance! Click below now!
What

Our Franchisees Say

There is definitely a niche in the market for this proactive, professional windscreen repair franchise. When you can offer a wide range of windscreen and glass repairs on a daily basis, this clearly differentiates you from 'reactive' windscreen replacement competitors."Glenn Bowker, Screen Rescue Birmingham

Winning Franchisee of the Year in the VFA22 awards, sponsored by Barclays, was surreal. It is a real accolade to the training, support and business mentoring you get from Screen Rescue from day one. Now, with a thriving business and over 100 regular customers, life feels good. I only wish I'd become my own boss much sooner!Keith Harrison, Screen Rescue Stevenage franchisee since 2020

Becoming a franchisee was fantastic. I'm so proud of how my business is going and what I've achieved already. Starting my own business has been a life-long ambition and I couldn't have wished for better franchisor support. So much so, I'm now working towards taking on my first technician!Keith Harrison, Screen Rescue Stevenage
Why

Choose Us

Scalable, low-cost, highly profitable franchise with repeat business model

Recession Resistant, award-winning franchise, with proven commercial demand

Bank approved business model with 70:30 LTV from all leading lenders – enter with just £11k in available liquid assets
Related

Franchise Categories
Related

Franchise Types