Paul Gilbert runs his Oven Wizards business in East Sussex
Great earnings and an improved work/life balance attracted Paul Gilbert to Oven Wizards.
Before deciding to invest in a franchise business, I worked in sales for the best part of 25 years selling mainly business information and telephone equipment. It was the death of my Dad in early 2013 that made me take a step back and re-evaluate my life. I decided I wanted to invest in a business which I could build at my own pace, and, over the coming years would give me several options when I get to retirement age. I also wanted to improve my work/life balance, giving me more time with my family and to pursue the sports I enjoy.
I believe one of the greatest benefits of a franchise is the reduced risk of business failure as there is a proven business concept and trading experience other franchisees have been following and enhancing; ensuring that the risks to the new franchisee are minimised.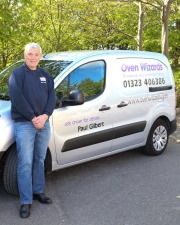 To begin with my initial thought was to look for a franchise to do with cars, as nearly everybody has one, and at some time may need body work or paint repairs. But after researching the various options available and assessing my local market place I decided against it. I then came across oven cleaning, again nearly everybody has one, and after doing some research a common thread came to light, nearly everybody I spoke to hated cleaning their oven and would willingly pay to have it cleaned. "Result!" My next step was to find an oven cleaning franchise. After looking through various websites I drew up a short list and arranged meetings with the companies.
I chose Oven Wizards because I felt comfortable and knew I could work with the directors of the company, plus the company met my expectations/requirements with regards to training and support.
When I joined Oven Wizards the directors arranged a 2 day business builder session covering all aspects of setting up and running your own successful business. Over the past 18 months I have followed and implemented this plan of action. My training was hands on, as you would expect. One of the reasons I chose Oven Wizards was the training was all field based, working supervised with another experienced franchisee on real live scenarios rather than an in house facility. My training was very comprehensive and well structured. I spent 2 weeks with 2 franchisees getting to understand how the cleaning procedures work but it didn't end there. There was a comprehensive operations and training manual, for any of those points you may have forgotten, plus we all have access to a franchisee members forum where we can share ideas and best practices and get answers to any issues you may have on running your business from other franchisees who have more experience. Because you are part of a growing network of successful oven cleaners they are all willing to take a call and give advice especially if you experience any issues when you are on a customer's site.
The support and advice continues after your initial business launch. The directors are only a phone call away. In the first few months they contacted me on a weekly basis to ensure my business was on track. Now further down the line they regularly contact me, always offering support and advice to help take my business to the next level. As a company there are quarterly regional meetings which are again great opportunities to hear what is working well for other franchisees plus we have an annual conference where new ideas and procedures are introduced.
I am really pleased my earnings are continuing to grow and are now more than what I was earning when I was in sales but, even more importantly, what has improved is my work/life balance. If I want to go on and earn more the opportunity is there to do so.
One of the best bits of running my own business is the customer "wow" factor when they see their newly cleaned sparkly oven. It makes every job worthwhile and ensures total job satisfaction. Regularly, customers comment their oven looks like new and that the family will be eating out from now on as they do not want to get it dirty again!
My business is now going from strength to strength. I have been trading now for just over 18 months and my turnover and profit continues to grow month on month. I now benefit from regular repeat business and get a lot of new business from recommendations from satisfied existing customers.
When I purchased my franchise, I deliberately bought a larger than normal territory with a view to expansion and putting additional vans on the road. Eighteen months down the road, and with the help and guidance from the directors, I am now in the process of recruiting another "Wizard" to work alongside me.
Without a doubt I would recommend Oven Wizards. It is certainly the best move I have ever made and I wish I had done it years ago. To anybody thinking of buying a franchise I would recommend you do your research thoroughly. Draw up a short list of 3 companies from the ones you have researched. Go and meet the directors of these companies, understand their business plans and long term goals, do they meet with your expectations plus, more importantly, could you see yourself working with them. Talk to their franchisees and not just the ones they give you to call. Ask to spend a day with a franchisee, make sure you can do the job physically and you can see yourself and will be happy doing this for the foreseeable future.
Find out more about starting your own Oven Wizards franchise by clicking below
What

Our Franchisees Say

My supermarket launch went really well. I am now looking forward to delivering the service to all my new customers I have booked in.Gary Taylor, North Devon Franchisee

The Business Builder training was very informative and has given me lots of ideas for marketing and advertising my Oven Wizards business… I am thoroughly enjoying all aspects of running my own business.Kevin Brown, Colchester Franchisee

I joined Oven Wizards as a Franchisee in 2004 aged just 19, having been employed as a Supermarket Retail Manager. I invested in the Franchise and was so impressed with the company that I bought another van. My future looks brilliant!James Booker, Maidstone Franchisee
Why

Choose Us

Best value for money oven cleaning Franchise in the market

Relentless focus on customer service ensures repeat business and recommendation

Hands on support of the business owners from day one
Related

Franchise Categories
Related

Franchise Types