OSCAR Pet Foods Franchise For Sale in Dorset
Dorchester, Dorset
10th January 2019
BUSINESS FOR SALE – DORCHESTER, DORSET
This is a franchise business operating under the OSCAR Pet Foods banner. Working from home, OSCAR provides a pet care service that covers a wide range of benefits to pet owners, from British-made nutritious pet food, a comprehensive range of accessories and healthcare products to advice in nutrition and behaviour.
Currently on the market is a pet food business which provides flexibility, freedom of choice and convenience. Designed to help applicants from different backgrounds and life skills to achieve success, it needs no previous experience.
With comprehensive training in all aspects of business development and the opportunity to gain a qualification in pet nutrition and behaviour, support and guidance is part of this package.
Located in Dorset, covering areas around Salisbury, Blandford & Shaftesbury,it's a fast-growing area where an enthusiastic contender with self-motivation will enjoy the excitement and the challenge.
Established in the 1990s and with over 100 franchisees throughout the UK, OSCAR is very experienced in training and supporting its franchisees.

Included in resale:
Exclusive territory & customer base.
Provided by OSCAR:
Innovative and user friendly training delivered by experienced mentors.
Unique to OSCAR – A formal nutritional qualification.
Full colour livery.
Professionally branded corporate marquee.
Corporate clothing and equipment.
Vast array of branded marketing materials.
Access to online marketing tools.
Access to online PR system.
Franchise manual for easy reference at your fingertips.
Internet discussion forum enabling you to network online.
Bespoke customer relationship system.
Fully functional bespoke accounts system.
Internet discussion forum.
E-commerce to send customer enquiries direct to your business.
OSCAR for your customer
A reliable, convenient free home delivery service. Easy payment system - making shopping easy.
A variety of tasty, highly nutritious pet foods and a comprehensive range of accessories.
100% honest label policy - customers have reassurance of a quality product.
The best possible ingredients and vitamins to maintain good health and wellbeing.
A FREE helpline to experts in nutrition behaviour and back-up veterinary advice.
The reason that the current owners are selling is that they are both in their late 60's and now wish to retire fully.
There is a vast potential to expand and take this franchise forward especially in the Salisbury area as there is a lot of new housing estates being built and huge potential to target.
OSCAR continues to reinforce franchisee development with exciting incentives and avenues of opportunity.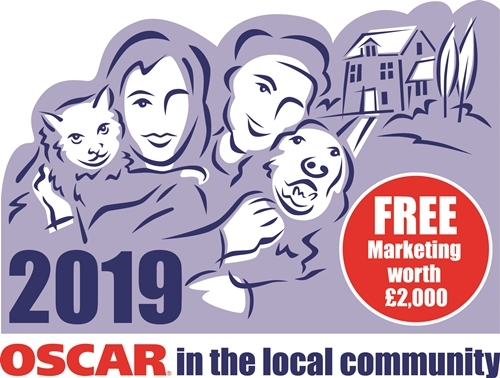 As we embark on another year, OSCAR is giving away £2,000's worth of marketing via local and social media platforms. The opportunities are endless, but to kickstart your new business with a combination of outlets will be a great opening for your launch date.
To be at the forefront of your local business, you will be looking to provide a committed service direct to the front doors of your community. Reliability with the personal touch creates a bond between you and your customer, ensuring you can offer a valued contribution to your neighbourhood.
OSCAR is offering you:
A personal website promoting your business in your locality.
Social media – Facebook locations to provide fun and interactive content to customers.
Online listings – creating local listings to promote your business to the community.
Google my Business – making it easier for pet owners to find you and your business.
If you would like to find out more about this exciting resale opportunity please click below and OSCAR will be in touch!
Enquire About This Resale
Other

Resale OpportunitiesOSCAR Pet Foods Franchise For Sale in North Nottinghamshire listed on 10th January 2019OSCAR Pet Foods Franchise For Sale in the Norfolk Broads listed on 10th January 2019OSCAR Pet Foods Franchise For Sale in York listed on 10th January 2019OSCAR Pet Foods Franchise For Sale in Glastonbury listed on 10th January 2019OSCAR Pet Foods Franchise For Sale in Stroud, Gloucester & Forest of Dean listed on 14th March 2019OSCAR Pet Foods Franchise For Sale in Lymington listed on 30th May 2019