FiltaFry Franchise
Total Fryer Management Business
The FiltaFry Franchise gives you the opportunity to run a successful Total Fryer Management Business from home. The business can operate from a single van right through to a multi vehicle operation.

About FiltaFry
Since its launch in 1996 FiltaFry Plus has become a 'household' name in the catering industry. The business is extremely proud to provide its cooking oil filtration service to many household names in the catering industry.
In 2003 the original founders relocated to the US to begin development of North America and now you can find FiltaFry on every continent around the world.
It is The Filta Group's commitment to increase the profitability of each franchise owner, year after year.
They are dedicated to providing their franchisees with new and improved Environmental Kitchen Solutions, so they can maximise the earnings potential.
The FiltaFry Franchise Opportunity: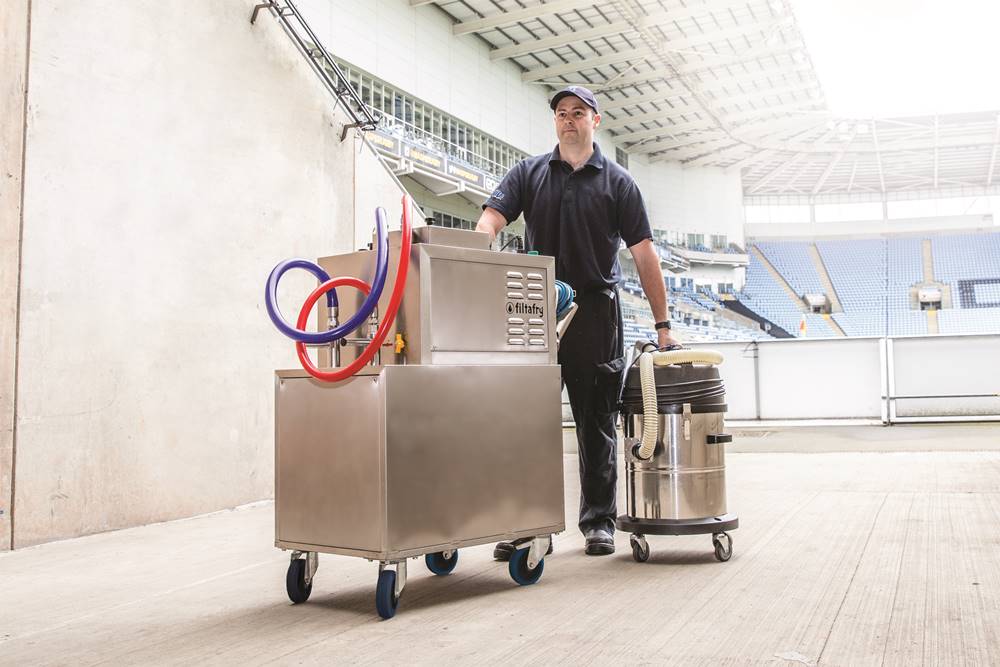 The FiltaFry Franchise offers fantastic growth potential and the opportunity to develop a huge network of clients in a short period of time.
The business offers a service that is required on a weekly repeat basis, the income potential is unlimited.
FiltaFry Plus offers a full fryer management service, allowing clients to make savings on cooking oil and deliver better quality food.
With virtually no direct competition, this opportunity is immense. Franchise owners provide a much needed and sought after service to a wide range of catering establishments including:
Restaurants
Motorway Services
Hotels
Commercial Kitchens
Takeaways
Hospitals
Industrial Canteens
Leisure Centres and Sports Grounds
Schools, Colleges and Universities
In addition, as a franchise owner you can capitalise on the ongoing client relationships by offering a range of branded kitchen hygiene products and uniforms. The sophisticated technology used by FiltaFry is unique. Your territory already contains thousands of potential clients in need of the service, the rewards are waiting for you!
The Benefits
By becoming a FiltaFry Franchisee you will have the following benefits to enable you to grow your Total Fryer Management Business:
Build multiple vans offering all services
Internationally recognised
Weekly repeat service
Small customer base per van
Mobile, can be based from home
Comprehensive in-field & business training
Minimal overheads & stock
Exclusive territory(s)
Simple administration
Environmentally-friendly
Guaranteed initial support
Free-phone call handling
On-going support & advice
IFA and AFA member
As a franchise owner you would manage and deliver a service which comprises of the mobile, on-site micro filtration of cooking oils and the vacuum based cleaning of deep fat fryers.
FiltaFry filtration machines are only available to FiltaFry franchisees and cannot be purchased from anywhere else in the world.
You can either operate from a single van or employ others to carry out this service in order to grow your business to a multi vehicle operation.

Could You Be a Successful FiltaFry Franchisee?
If you have the energy, enthusiasm and commitment to succeed, then FiltaFry can train you to grow a profitable and successful business.
Find out more about the FiltaFry Franchise, the leading Total Fryer Management Business. Click below now!
What

Our Franchisees Say

The franchise is a great way to earn a living and be independent. Customers are nearly all repeat work, most often weekly jobs so you know how much you are regularly earning.Karl Williams

FiltaFry is a franchise, which does not need to be nine to five and the hours that you arrange your jobs for can be fitted in and around your family life.Karen Herbert

I can honestly say that FiltaFry have delivered on every aspect of the support that they promised with the onus on me to make a success of the venture. This was exactly what I was looking for in a franchise.Graham Allen
Why

Choose Us

FiltaFry franchisees generate earnings from day one!

FiltaFry franchisees provide a weekly repeat service.

FiltaFry offer a truly unique franchise - virtually no competition.
Related

Franchise Categories
Related

Franchise Types