Snap-on Celebrates Record Breaking Numbers in Q1
10th October 2019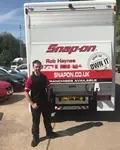 New starter Rob Haynes Stoke on Trent
Snap-on Tools welcomed a record-breaking number of new franchisees in the first quarter of 2019. Joining the 430-strong UK network, a whopping 14 new recruits launched their businesses between January and March.
With stable growth in the tool and diagnostics industry, Snap-on continue to cement their position as the number one professional tool brand for the modern technician worldwide – something that prospective franchisees are keen to leverage.
"I've worked as a Mechanic since I left school and I've only ever used Snap-on products – they're the best!" said Rob Haynes, who launched his franchise in Stoke-on-Trent in January. "I was really familiar with the brand, so I understand the quality and the appeal. Snap-on is the brand that everyone wants to have in their toolbox!"
Recently named as the UK's number one van franchise, the Snap-on opportunity is appealing to entrepreneurs from all walks of life. All 14 new franchisees have joined the tool giant with the hope of achieving a better work-life balance as well building a profitable, scalable business for the long-term. Realising he needed to make a positive change in his life, 31-year-old James Dainton launched his Snap-on franchise in Horwich in early February. And he's clear on what motivates him to succeed!
"I want to make lots of money! I don't think that's a bad thing. I am motivated to build a really profitable business – my aim is to hit sales of £8k per week, I actually don't think I'm far off that already. I just love making the sales, it's really rewarding. And knowing you're supplying a fantastic product that's going to make all the difference to the guys out in the field is the icing on the cake."
A high percentage of franchisees who join the Snap-on franchise family are already very familiar with brand, having once worked in the automotive, marine, aviation, and railroad industries. 30-year-old Rob is no exception and spent 12 years working for the family business before taking the plunge.

"My parents own an automotive garage and I'd been working there since I was 18," he explained. "I actually looked into franchising about four years ago, but it just wasn't the right time for me back then. Late last year, when a nearby territory became available, I saw it as a sign and gave Snap-on a call. With my experience, the support of my family and the Snap-on head team, I knew I'd really be able to make a success of my franchise."
Now three months in, Rob's business is thriving. He's looking forward to seeing what the future brings and hopes his initial few months are an indication of things to come.
"It's going really well! I think one of the most enjoyable things about the experience so far is the training. I already knew a lot about the tools but obviously not so much about running a business. I travelled to the training week in Dallas with another new franchisee who came from a sales background and we shared our professional experiences for the benefit of each other's business. Although I'm already doing great and building relationships with my clients, it's very reassuring to know I've got the support of my fellow franchisees and the head office team if I need it."
Fellow new recruit, James, says one of the best things about being a franchisee is spending time with his customers. He's taking great pride in being the local Snap-on man!
"I'm a real people person so being a franchisee suits me down to the ground. I think as long as you're willing to put customer service first and you have a good work ethic, then a Snap-on franchise is a really good opportunity. For anyone who might be considering buying a franchise, I'd tell them to go for it. It can be quite daunting in the beginning, but you've really got the best in the business supporting you, every step of the way. I'm loving every second and can't imagine doing anything else now."
For more information about Snap-on and how you can join the growing network of franchisees just click below
What

Our Franchisees Say

I love that Snap-on offer you unlimited support. It's so important if, like me, you haven't owned a business before. Sometimes I don't know what I would do without them!James Dainton, franchisee

The best thing about being a Snap-on franchisee is being responsible for your own success. The feeling of pride I get from running my franchise tops anything I've felt before in my working life.Guy Baldwin-Brown, franchisee

I've never once regretted my decision to buy a Snap-on franchise and – one thing's for sure – my family will never want for anything. How many young dads can say that?Laj Khattak, franchisee
Why

Choose Us

On average, Snap-on franchisees earn over £6,500 per WEEK with many achieving average weekly sales of more than £10k.

Get more: more control over your own destiny, more time to spend with your family control and more money to support your dreams.

Snap-on have trained and supported over 430 people, just like you, to build their own successful, profitable business.
Related

Franchise Categories
Related

Franchise Types