Buying a Franchise vs Starting Own Business
The challenges of starting a small business from scratch and keeping it going cannot be underestimated. However, franchising has also attracted the attention of many over the past years, particularly in the recent tough economic climate, when franchises have shown to be a more secure way to start a business.
Ownership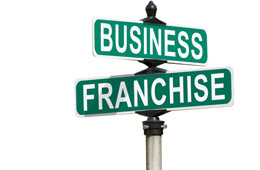 One of the advantages of buying into a Franchise is that you get continued assistance with your business. You will have access to support to help you when you are finding your feet.
The Franchise also operates under a successful brand which is how customers know that the service will be the same in every region. It makes a concerted effort to ensure that every Franchisee is working together, supporting and reinforcing the company brand.
Those starting up their own companies, independent of a franchise, might have more freedom to change the business model around and alter the branding of their company but finding a good way to work and building your name up, against strong competition, can take a lot of time and perseverance.
Around 92% of all UK franchisees reported profitability over the last 12 months*
Costs
The initial Franchise fee virtually provides everything you could possibly need to get your new business established, including the continuing right to use the brand. When you make a financial investment in a Franchise you are unable to pick and choose which parts of the operating system you want to use, however if the system is proven to be successful already then why wouldn't you follow it? The Franchisor continues to manage the overall marketing of the brand leaving you time to focus on marketing your services in your local area.
A start-up business does not have an ongoing payment commitment and offers you the freedom to decide how you want to run your business model. However, independent businesses will have higher overall costs.
Did you know: McDonald's is a franchise?
Operational resources
Franchises tend to be popular with buyers who lack extensive business or marketing experience, so access to a Franchise package that offers training and support can be of real benefit to a Franchisee wanting to kick start their business.
Independent businesses are typically on their own with regards to support and might have to spend resources on costly business consultants and other areas of specialised expertise.
Franchising has flourished into an industry which now has nearly 1,000 brands in a multitude of different sectors.
Success rate
Particularly in the early stages of a business, the importance of support and guidance from a Franchisor cannot be overlooked. You may sometimes pay more up front for a Franchise but this will be offset by the access to resources and dedicated support to make your business profitable and help you create a customer base. Choosing a good Franchise that offers training, development and access to support means that your risk of failure should be lower and the long term profit should be higher.
John Graham, Director of Oven Wizards comments "Our continued success is based on customer service and partnership within the Oven Wizards community of franchisees. Overall, we find it incredibly important to support our franchisees to enable them to successfully run their business"
There is no right or wrong answer to whether you should choose a Franchise over setting up your own business; it just depends on what your philosophy is and what you want to accomplish.
Find out more about the Oven Wizards Franchise opportunity by clicking below now!
What

Our Franchisees Say

I joined Oven Wizards as a Franchisee in 2004 aged just 19, having been employed as a Supermarket Retail Manager. I invested in the Franchise and was so impressed with the company that I bought another van. My future looks brilliant!James Booker, Maidstone Franchisee

The Business Builder training was very informative and has given me lots of ideas for marketing and advertising my Oven Wizards business… I am thoroughly enjoying all aspects of running my own business.Kevin Brown, Colchester Franchisee

My supermarket launch went really well. I am now looking forward to delivering the service to all my new customers I have booked in.Gary Taylor, North Devon Franchisee
Why

Choose Us

Relentless focus on customer service ensures repeat business and recommendation

Hands on support of the business owners from day one

Best value for money oven cleaning Franchise in the market
Related

Franchise Categories
Related

Franchise Types