Three Top Tips To Achieve Multi-Unit Ownership From Those In The Know
Multi-unit ownership involves owning and operating multiple franchise locations – whether with one franchise brand or several. With data showing that around 97% of franchisees have reported turning a profit for more than 20 years consecutively1, becoming a franchisee is an attractive prospect. We hear from three franchisees, at different stages in their multi-unit ownership journey. They share their tips for multi-unit ownership, for anyone considering their first steps in franchising or those looking to expand their current business portfolio.
1. Strength in numbers
Owning a large multi-unit portfolio, including eight Pitman Training territories, Chris Wyle focuses on the importance of building a strong team. "Working to the premise that the speed of the leader determines the pace of the pack, team members who excel show others what is possible and encourage them to strive for more. In doing so, this raises productivity and standards of work. When the team consistently delivers excellent results and provides exceptional service, it enhances the business' reputation and builds trust with students and prospective students – our customers.
"As an education provider, a team that is committed to providing excellent customer service is essential. Satisfied students are more likely to become repeat customers and recommend our service to others. A team that is well trained, motivated and student-focused plays a significant role in building loyalty.
"What's more, a capable and reliable team means you can delegate tasks and responsibilities - it frees up time for you as a leader to focus on strategic initiatives and high-level decision making. As successful businesses constantly evolve, strong and adaptable teams ensure you can remain competitive. A strong team is more likely to embrace change and adapt to new technologies, market trends and customer preferences."

2. Prioritise customers and community
Opening multiple Pitman Training centres in Ireland,Tomás Finneran emphasises the importance of realising the lead time for your business launch. "While the initial investment for equipment, staff and marketing is a key consideration, it can take between 6-12 months or more to be fully operational and to begin building up a good reputation. It's crucial you are prepared for an increasing footfall and enquiry levels as you establish your business. While it may be tempting to do a soft launch, Tomás suggests opening when all systems, processes and staff are burning on all cylinders. Word of mouth is a huge factor in business success, so ensuring you are offering an exceptional customer experience, with all services open and operational, gives you the best chance of a positive recommendation.
"Investing in a franchise means you can benefit from a well-established and recognised brand, but the importance of local marketing must not be underestimated. Understanding your target market, leveraging local advertising opportunities and actively engaging with our prospective students are essential activities. Local marketing efforts, when executed successfully, can generate positive word-of-mouth referrals and recommendations. Satisfied customers – for us, our students - who have a positive experience with a local business are more likely to share their experiences with friends, family and colleagues within the local community. Recommendations are powerful and can significantly influence the decision making of potential new students for our business."

3. Maintain and monitor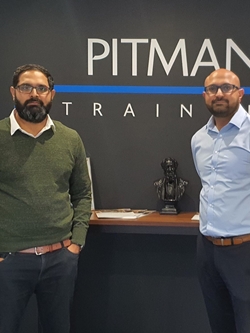 Having recently opened a second Pitman Training centre, Dip and Neil Khakhria are just at the start of their multi-unit journey but already emphasise the importance of making decisions based on strategy. "While it can be tempting to open an additional location when a first is doing well, monitoring financial performance closely ensures business decisions are data driven."
After opening one training centre and realising its success, Dip and Neil waited approximately 18 months before opening a second centre. "Taking this time meant there was less risk attached to our expansion. By setting clear metrics and analysing data, you can assess the effectiveness of your strategies, initiatives, and investments. This allows for continuous improvement and course correction when necessary.
"Data analysis allowed us to identify patterns, trends and correlations within our operations and external factors. These insights helped identify opportunities, anticipate market changes, understand customer preferences and optimise business processes ahead of opening our second centre."
Multi-unit franchising allows franchisees to grow their business more rapidly by opening multiple units. It offers an opportunity for expansion and scalability, allowing franchisees to tap into different markets and increase their revenue potential. With careful planning, management and a strong understanding of the specific franchise system, multi-unit ownership can significantly increase revenue potential compared to operating a single unit. With multiple revenue streams from different locations, franchisees have the opportunity to generate higher overall sales and profitability.
1The British Franchise Association (BFA) and NatWest survey
For more information about Pitman Training and how you can become part of its prestigious franchise network, just click below
What

Our Franchisees Say

"Joining Pitman was the perfect opportunity for me to help improve people's career prospects, gain promotions or help them get back into work. One thing I've found about being a franchise partner with Pitman is that you're in business for yourself but not by yourself. There's a level of comfort that you get because other people are involved in the same project, it's a real team effort.Chris Wyle, multi-unit franchise partner

I've been able to help far more people than I ever could've dreamed of when I was working freelance. Head office provides us with sophisticated business management systems and marketing support. They're also always looking to develop the products we use to make sure there are various innovative ways for students to learn.Joy Renshaw, Pitman Training Brighton
Why

Choose Us

Mature franchisor

Globally renowned, well established training company

Support of a large, global franchise network
Related

Franchise Categories
Related

Franchise Types