Introducing Stephen Hall from ComputerXplorers
Name: Stephen Hall
Location: Birmingham
Franchise: ComputerXplorers Birmingham
Year you started with the franchise: 2011
Why did you go down the franchise route? And why did you choose your franchise?
We preferred the relative security of a franchise over opening an independent business from scratch. As self confessed computer geeks we thought our different skills would work well together with this kind of franchise.
Following some initial research into ComputerXplorers we met with the franchisor, Nigel Toplis, and went to see a class in action. That really sealed the deal. We weren't prepared for how brilliant the classes were and to see the children being so enthusiastic and absorbed really sold it to us.
The franchise model works so well because it is built on following a proven system – and that's exactly what we have set up and developed here within our business – our own systems and procedures devised to keep the sales pipeline flowing and nurture customer relationships.
Unlike other franchises with a rigid model to follow, as ours is a software driven service, ComputerXplorers franchisees have a lot of freedom to develop and adapt the material to suit the individual requirements of the schools we work with.
What did you do before taking up a franchise?
Both Stephen and Fiona worked in Belfast; Stephen in various sales roles, selling all manner of products from electronic cash systems to industrial storage systems whilst Fiona worked in a Business to Business sales role for a stationery company, before finding a job IT working for Fujitsu Services.
It was during this time that Stephen and Fiona decided that they'd like to move back to England and run their own business together.
How did you raise the finance?
Savings & Bank Loan
What training and support did you receive initially and ongoing?
The initial training was very comprehensive, involving stints both here in the UK and over in the US, where ComputerXplorers was originally formed. Both the support and training is very much on-going. ComputerXplorers do exactly what they promise they will do and it helps that they are such a nice team of people to work with.
What is a typical day for you as a franchisee?
No two days are ever the same. Working from home the majority of our office time is spent administering the business – making sure everyone involved knows what they are doing and have the tools to do it. With the forever changing curriculum, it's important our products reflect this so a lot of our time is spent ensuring content suits the current criteria. Training staff and covering staff also forms a big part of our day, whilst outside of the office I regularly visit the schools that we work with, make presentations to children in assemblies to try and acquire new business, meet with head teachers and business managers and get software installed. I also keep in touch with my teachers meeting or speaking to them at least once a week.
What challenges have you faced?
Our main challenge has been sourcing staff. Other than that, it's coping with the unusual school calendar in that there is always a break – which is not always welcomed every six weeks from our point of view.
Has becoming a franchisee changed your life, if so how?
On the other hand, as a result of the school breaks, it allows us to have a better work/life balance. And I'm running a business with my wife so it doesn't get much better than that.
What marketing/promotional tools do you use to grow your franchise?
Social media, cold calling, referrals, network events (rare).
How does the franchisor support you?
The franchisor is a huge support to us. We're also quite privileged to have a strong development director who we have monthly conference calls with as well as an annual network meeting and message boards which ensures everyone is kept in the loop and up-to-date.
What does your brand mean to you?
We're very proud of what we do, what we offer and how we help children achieve new skills with technology, that they otherwise wouldn't have had the chance to gain.
What do you think your brand means to your customers?
They know they're getting quality from ComputerXplorers. We provide a high standard of lessons and our teachers are reliable.
How has your business developed – what makes your customers keep coming back?
Moved to nearly all contract work i.e. a supplier to the schools, rather than the parents.
We charge a premium price and customers are happy to pay because they see the value. Everything is underpinned by a focus on quality both in terms of the curriculum we deliver and the service we give to schools, teachers, children and parents. We are continually measuring and monitoring our performance and business and go over and above to ensure our customers are happy. For example, if a child is ill and misses classes we will arrange a free one to one session to help them catch up – it's all part of our commitment to customer service.
In your opinion, what makes a successful franchisee?
Adaptable to the market, must have an interest and confidence with the product.
What advice would you give to someone thinking of buying their first franchise?
Buy something you're interested in, not just a company that promises a return.
What are your plans for the future?
Ideally we'd like to increase our staff numbers and the amount of contract work. Fiona's IT background enables us to integrate our ComputerXplorers software with other programmes and curriculum, so the next phase of our business growth revolves around getting contracts with schools to deliver full day workshops and PPE cover in addition to clubs. Instead of having to run frequent assemblies to get work we can gain year-long commitments.
We ensure we keep up with all of the latest technology. We're geeks at heart and get as much fun out of playing with new pieces of kit as the children do. Most of our evenings are spent exploring curriculum, learning programmes and looking for new software to adapt. It's essential we do this to stay one step ahead of the game.
If this story from Stephen has interested you then find out more about the ComputerXplorers franchise by clicking below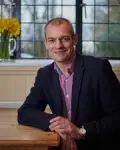 Andrew Green Runs ComputerXplorers Cambridge and Chelmsford
Andrew Green took on a franchise with ComputerXplorers as it fits around his family life.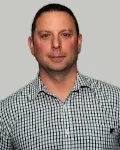 Introducing John McGill from ComputerXplorers
Hear from John McGill, East Kilbride franchisee, as he talks about his ComputerXplorers business.