Work Hard, Play Harder with Snap-on!
There are no secret formulas or tricks of the trade which have amounted to Craig Bishop's success. The 31-year-old earnt the title of Snap-on Tools UK 'Newcomer of the Year' for his commitment to his customers and his sheer determination to succeed. His approach to business is simple – to be the best, you've got to work hard.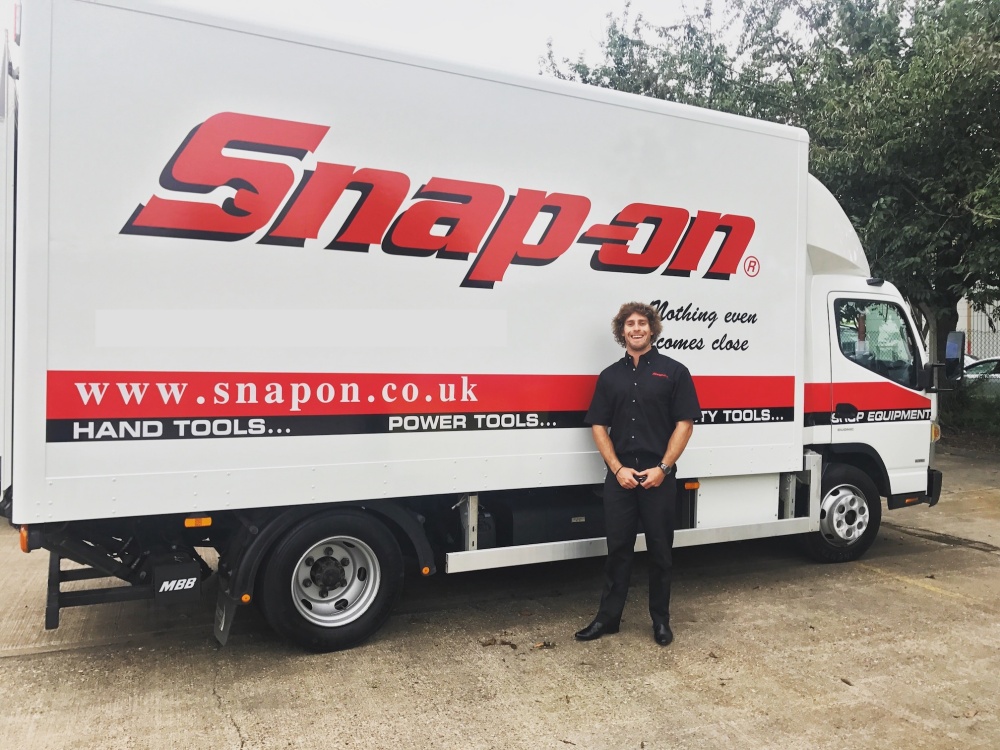 Craig launched his Snap-on franchise in North Dorset in 2017. Since then, he's built his average sales up to over £10,000 per week.
To keep up with the demand from his customers, he is now working towards bringing partner, Amy, in to support with the operations of the franchise. Not bad for someone less than two years in, with no prior business experience!
"Business isn't in my blood, but I haven't let that hold me back. I'm incredibly competitive and believe that, if I work as hard as I can, I'll be able to reap the benefits for years to come. I'm proud of my achievements but I'll never rest on my laurels; I'm here to keep getting bigger and better. I want to make my family and Snap-on proud."
No motor trade experience whatsoever!

Craig hadn't always felt fulfilled by his career and, until launching his own Snap-on franchise, had no motor trade experience whatsoever. After leaving school, he became an apprentice and trained as an electrician, later qualifying as a marine electrician for the special forces. For the next five years, this role saw him travel the world. But then, he found his work was no longer rewarding him the way it once had.
"In the end, my job wasn't really challenging me, and I wanted more. Don't get me wrong, I loved the travel aspect, and seeing the world continues to be a driving force of mine but getting the odd day off to go surfing – my real passion – wasn't cutting it anymore. I've always wanted that next challenge, to push myself and to be in control of my destiny.
A friend of mine already had a Snap-on franchise and was doing really well for himself – I guess you could say I wanted a piece of the pie! I've always been a hard worker and felt like Snap-on was one of those opportunities when you get out what you put in. So, I bit the bullet and got in touch with the franchise recruitment team."
After a thorough due diligence and recruitment process, Snap-on recognised Craig's desire to succeed and worked with him to find a territory. Once the foundations of Craig's business were set in place, it was time for franchisee training – the first step of his Snap-on journey.
Training
Training starts with ten days of classroom-style training in the US. Afterwards, franchisees visit Snap-on's UK head office in Kettering to meet the staff who will support them on a daily basis and collect their very own custom-built mobile store! Once out on the road, one-to-one training continues with a dedicated Franchise Developer who rides with franchisees for their first four weeks. As part of a six-month intensive onboarding process, new franchisees receive a further 31 days of on-van support from a Sales Developer and Business Manager over the following five months. That's 51 contact days in the first six months!
Back in Blighty and Craig was out on the road with a van full of stock and a packed schedule of client visits. Thanks to the comprehensive franchisee training, the determined entrepreneur never once felt overwhelmed by the demand and, within a few months, was enjoying a success he'd worked hard for.
Foundations to make the business a success
"I don't look like what I'd say the typical Snap-on man looks like – for starters, I'm a surfer! Also, let's not forget that I had no experience of the tool trade whatsoever. Snap-on teach you everything you need to know and are there to support you every step of the way, so I've never once felt out of my depth. That gave me the foundations to make the business a success and I take full advantage of the tools available to me. I've built great relationships with my regulars. I'm always thinking about my customers and putting them first, which is part and parcel of my success."
Averaging sales of over £10k a week
Craig's hard work continued to pay off. As well as being part of the elite group of franchisees averaging sales of over £10k a week, in 2018, he ranked 7th overall in the UK out of over 430 franchisees and won the award for best newcomer in the UK. News of Craig's success quickly travelled around the Snap-on network and more established franchisees regularly asked the young businessman for support with their own sales tactics.
"The guys in the network are so successful in their own right so having them approach me for advice is an indication of how far I've come. Winning Newcomer of the Year has been the highlight of my career and, now I've had a taste of success, I'm determined to keep going. My goal is to win Franchisee of the Year next year, for my region and the UK as a whole. I'm also going to be in the Top 40 franchisee club for the life of my franchise. I'll do everything I can in my power to achieve it!"
It's not all work, work, work for Craig. His desire to enjoy the finer things in life and achieve financial freedom drives him to work hard and play harder! Finding time at the weekends to partake in his past-time of surfing offers an opportunity to enjoy the, somewhat fleeting, British summer.
"I'm driven to be the best and to provide a great lifestyle for my family, that includes the big house and the nice car – I'm not ashamed to say so. My plan is to bring Amy in and pay her a salary as my assistant. I'm proud that my franchise will become a family business and support us both. I want to be able to look back in a few years' time and say, 'that's mine, I built that'.
I love spending time on the coast and water sports provide another opportunity for my competitive tendencies to come out! Working for the special forces, I played on the British Beach Volleyball Tour and got the award for the most improved player on the tour. It turned out that I couldn't go to the awards ceremony because I was on Snap-on training in Dallas! Snap-on was the best possible reason to give it a miss and, as it turns out, the best decision I could have made for my career."
Find out how you can become a successful Snap-on Franchisee,
click below now!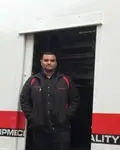 Family Man Turned Snap-on Man!
Lajwer Khattak has a goal to become a multi-unit franchise by the time he reaches 30.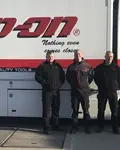 All The Tools For Success!
Guy Baldwin-Brown launched his first Snap-on franchise in Ellesmere Port in 2009.
What

Our Franchisees Say

Snap-on teach you everything you need to know and are there to support you every step of the way, so I've never once felt out of my depth.Craig Bishop, franchisee

I've never once regretted my decision to buy a Snap-on franchise and – one thing's for sure – my family will never want for anything. How many young dads can say that?Laj Khattak, franchisee

The best thing about being a Snap-on franchisee is being responsible for your own success. The feeling of pride I get from running my franchise tops anything I've felt before in my working life.Guy Baldwin-Brown, franchisee
Why

Choose Us

Get more: more control over your own destiny, more time to spend with your family control and more money to support your dreams.

On average, Snap-on franchisees earn over £6,500 per WEEK with many achieving average weekly sales of more than £10k.

Snap-on have trained and supported over 430 people, just like you, to build their own successful, profitable business.
Related

Franchise Categories
Related

Franchise Types