Scoop Dotty Dog Franchise
Scoop Dotty Dog Franchise
Poop A Scoop Business

The Scoop Dotty Dog Franchise is a professional Poop A Scoop Business. The business provides a service to private households, dog boarders, local authorities, letting agents and dog event organisers. A complete package for clearing, sanitising and disposal of dog waste.
The Scoop Dotty Dog Franchise Opportunity:
As a franchise owner you be able to offer the following services:
Private Households/Let Properties – Clearing dog waste from gardens, spraying area with pet-safe disinfectant/deodoriser, taking waste away for disposal off of customer's premises.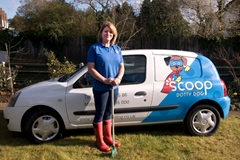 Dog Boarders – Arranging collection of pre-bagged business generated dog waste, waste is taken away and disposed of away from client's premises.
Pet Events – Providing temporary pop up waste bins, to include the set-up, change of bags and final removal and disposal of waste followed by the removal of the temporary bins from site.
Local Authorities – To offer assistance in public places including the change of poop bins.
It is expected that a franchisee will grow their territory to accommodate all avenues of need. To be able to sell their service not only to the general public but be willing to work with businesses and the local authority and the community alike. To pioneer the fight against dog poop.
Multiple avenues of income
Business will come from private clients (B2C) or businesses (B2B) such as dog boarders, letting agents, event organisation, local authorities and private estates.
Hourly rates range from £20 to £40+ per hour depending on the job type.
No experience necessary!
Franchisees have the opportunity to either manage their Poop A Scoop Business by employing others to carry out the work or carry out the work themselves.
The business has low over-heads and is suitable for all ages.


There is no limitation upon expansion with multi-vehicle options and the flexiblity provies you with the perfect work/life balance.

Franchise owners will receive:

Full kit start up package
Continued support and training
Marketing assistance
Business development mentoring

The Scoop Dotty Dog Franchise Package:
Working tools and equipment
Branded uniform
Three year waste carriers licence
Stationery and own web page
Sign writing for vehicle
Contact details added to the head office website and links to H/O social media
Leaflets for immediate distribution
Entry to the private franchisee support forum page
The Investment:
The franchise fee is £5,999. Franchise owners will need to have their own van and arrange their own insurances for both vehicle and public liability.
Is a Poop A Scoop Business for you?
Do you have:
A desire to succeed
A willingness to learn
A willingness to work in all weathers

Self awareness
The ability to speak with different types of business
No fear of dogs!
If you can answer YES to the above then the Scoop Dotty Dog Franchise want to hear from you!
Find out more about the Scoop Dotty Dog Franchise, the new and exciting Poop A Scoop Business. Click the button below now!