PetStay Franchise
PetStay Franchise For Sale in Reading
2nd February 2017
Reading
Successful PetStay Reading Branch For Sale for £14,995
Don't miss this exciting opportunity to buy PetStay Reading Home Dog Boarding Branch.
PetStay have more than 11 years' experience in providing an excellent home dog boarding service and have gained a great national reputation with over 34 branches throughout the UK with two being in Scotland and with plans of another 10 in 2017.
PetStay have been established since 2005 and were the first to be licensed in many parts of Yorkshire and Lincolnshire and now are the market leaders in providing an alternative to kennels and proud to be unique by leading the way in the home dog boarding market.

If you have dreamed of being your own boss, working the hours that suit you, working from home and have a genuine love of dogs then make sure you don't miss this fantastic chance of PetStay Reading branch.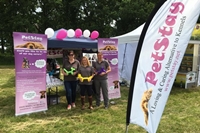 The Reading Branch has a database of over 160 customers, 10ish registered and licensed dog carers and already a very high percentage of the business is repeat customers. There is still huge potential to grow as we haven't gone into: Reading, Bracknell, Wokingham and Basingstoke needs building on for example.
PetStay has been established since 2005 and provides a home dog boarding service to many, many happy customers and their four legged friends. The Reading branch is being offered for sale and has been trading for over 2 years.

The PetStay Franchise is a life changing choice for you and your family giving you the dream of working from your own home office with very low overheads whilst matching customers' dogs to one of your network of dog carers.

Home dog boarding is a growing market as dog owners just don't want to put their dog in a kennel and are therefore looking for an alternative, professional service that can provide a home-from-home environment for their beloved dog. PetStay provide this and more.

PetStay have built up a successful business with very strong branding that people instantly recognise across Reading. With still plenty of room for further growth this is a tremendous business opportunity.
Property information
Location: Working from home so can be anywhere in the Berkshire area. The branch covers all the RG postcodes.
Premises Details: Working from home so low overheads.
Business Operation
Expansion Potential: The branch has not covered all the area so there is still so much potential to grow more in the RG postcode area, for example they haven't gone into the Reading, Bracknell, Wokingham or Basingstoke areas so they still need building up.
Reasons for selling: Change of circumstances.
Trading hours: Flexible hours.
Employees: 10 self-employed dog carers, all registered, licensed and insured.

Years established: Just over 2 years.
Franchise Information
Franchise opportunity: Franchise Resale
Franchise terms: 5 years new franchise agreement, 2/3 days training, full support, regional meetings, one-to-ones, business development help, Annual PetStay conference, ongoing training.
Support & training: This is a franchise branch so there are lots of support from PetStay head office, the price includes 2/3 days training at head office.
Home based: This business can be run from home.

Relocatable: This business can be relocated.
Click the button below to enquire about this resale
Price:
£14,995
PetStay Franchise Resales
2nd February 2017
West Midlands
The established PetStay West Midlands North home dog boarding franchise is for sale.